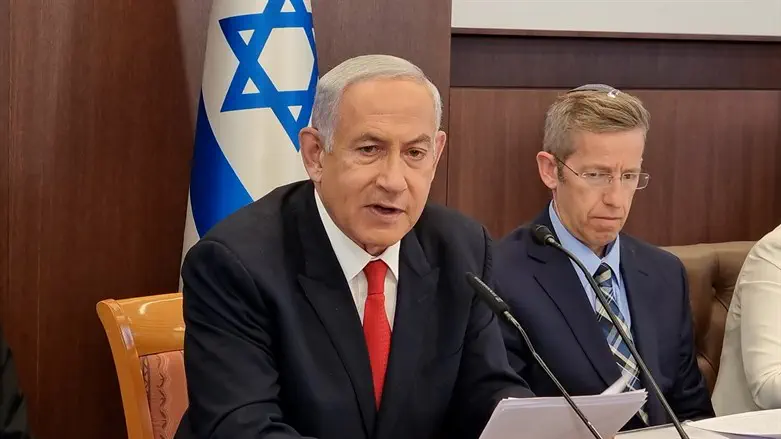 Benjamin Netanyahu
INN
Prime Minister Benjamin Netanyahu strongly criticized International Atomic Energy Association (IAEA) Director Rafael Grossi for claiming that an Israeli military attack on Iran's nuclear weapons program would be illegal under international law.
"International Atomic Energy Agency Director General Rafael Grossi just said in Tehran that an Israeli attack on the Iranian nuclear facilities is against the law. Rafael Grossi is a worthy gentleman who said something unworthy. Against which law? Is Iran, which openly calls for our destruction, permitted to defend the destructive weapons that would slaughter us? Are we permitted to defend ourselves? It is clear that we are and it is clear that we will do so. And we will do so in discussions or actions around the clock, which I will not detail here, of course," Netanyahu said at the start of the weekly cabinet meeting Sunday afternoon.
He added: "I say this because nothing will deter us from defending our country and preventing our enemies from eliminating the state of the Jews. We are on the eve of Purim. 2,500 years ago an enemy arose in Persia who sought to destroy the Jews. They did not succeed then, neither will they succeed today. I wish the entire people of Israel a Happy Purim."
Grossi said yesterday (Saturday) upon returning from a trip to Tehran that "any military attack on a nuclear facility is outlawed, is out of the normative structures that we all abide by."
Grossi also said he had held "constructive" talks with Iranian officials after the discovery of uranium particles enriched to near weapons-grade level.
Last week, IAEA inspectors revealed that Iran had enriched uranium to 84 percent purity for the first time, placing it closer than ever to weapons-grade material, which is at 90 percent purity. Iran had previously enriched uranium to 60% purity, far beyond the level required for any non-military purpose.
US Under Secretary of Defense for Policy Colin Kahl warned on Tuesday that Iran could have enough weapons-grade uranium for one nuclear weapon in "about 12 days.
"Because Iran's nuclear progress since we left the JCPOA has been remarkable. Back in 2018, when the previous administration decided to leave the JCPOA it would have taken Iran about 12 months to produce one bomb's worth of fissile material. Now it would take about 12 days," Kahl said during a Congressional hearing on the Biden Administration's efforts to revive the 2015 Iran nuclear deal.