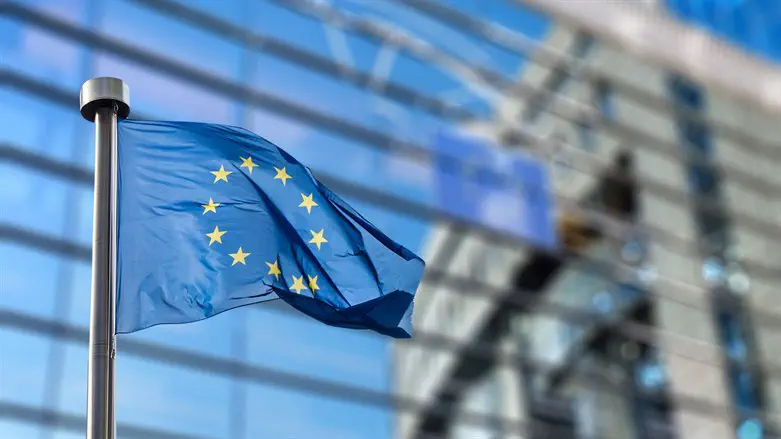 European Union flag
iStock
The European Union is concerned that Hungary may move its embassy from Tel Aviv to Jerusalem after a senior government official said that Israel recently held talks with Hungary on the issue, Haaretz reported on Saturday.
Peter Stano, the European Commission's spokesman for foreign affairs, said the EU is unaware of any decision having been made on the issue, and at this stage, talk of moving the embassy seems to be mere speculation. During a press conference, he reiterated that EU policy is not to open embassies in Jerusalem.
"There is a long-standing position which stems from the UN Security Council resolution 478 from 1980, which calls on all member states of the UN to withdraw embassies and diplomatic missions to Israel from Jerusalem," Stano said, noting that all EU member states currently have their embassies in Tel Aviv.
He reiterated the EU's commitment to a two-state solution on the basis of international law and said Jerusalem's status must be resolved through Israeli-Palestinian Arab negotiations. The EU's position on Jerusalem was reaffirmed by all member states a few years ago and has not changed since then, he added.
On Friday, The Times of Israel reported that Budapest would move its embassy in Israel to Jerusalem next month, in an act of support by Hungarian Prime Minister Viktor Orban for Prime Minister Benjamin Netanyahu.
Hungarian President Katalin Novak said later in the day that no decision had yet been made on the embassy relocation.
"I also read news in the press," Novak said during a news conference while visiting Prague, as quoted by Reuters. "In Hungary, a decision so far has not been made on moving our embassy in Israel."
In 2019, Orban announced that Hungary would open a trade office in Jerusalem that has "diplomatic status".