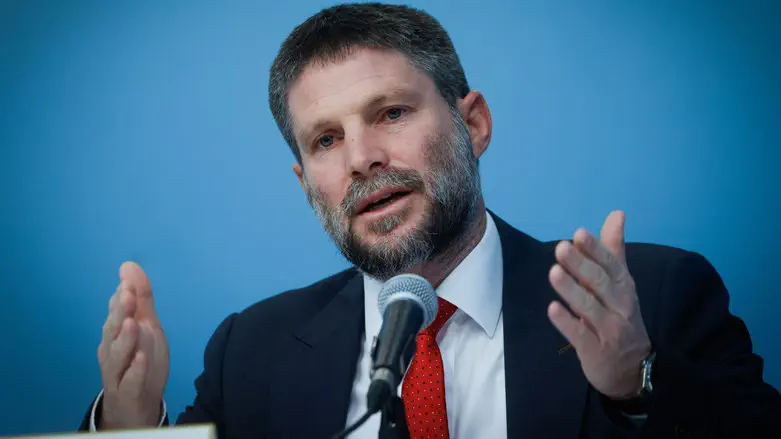 Bezalel Smotrich
Oliver Fitoussi/Flash90
Finance Minister Bezalel Smotrich responded to US Ambassador to Israel Tom Nides, who called to throw him off the plane to Washington in response to a call by the minister to "erase Huwara."
"I'm not angry at US Ambassador to Israel Tom Nides, and I'm convinced that he did not intend to incite my killing when he said that they need to throw me off the plane," Smotrich stated, "Just like I didn't mean to harm innocent civilians when I said that we need to erase Huwara."
The Minister explained: "People sometimes use harsh terms which they don't mean literally to give a strong message. It happens to everyone."
Last week, following a terror attack in which two Jewish brothers were shot dead at close range while stuck in a traffic jam on the part of Route 60 that goes through the hostile Arab town of Huwara in Samaria, Smotrich liked a tweet that called to erase the town.
When asked why he liked the tweet, the minister replied: "Because I think the village of Huwara needs to be wiped out. I think the State of Israel should do it."
US Ambassador Nides expressed himself in an unprecedented manner regarding the Israeli minister, according to Channel 12 News.
"I am really angry with him. He is a fool," Nides reportedly said of Smotrich, adding, "He has a flight to Washington, and if I could, I would throw him off the plane."
The US Embassy in Israel would initially not comment on the report but later denied Nides had made these comments.
On Saturday, Smotrich clarified his remarks, "It wasn't the correct word, I misspoke," said the minister, "The statement was made in the heat of emotions. I'm discomfited by the need to clarify and that there are those who think that I support harming innocent civilians."