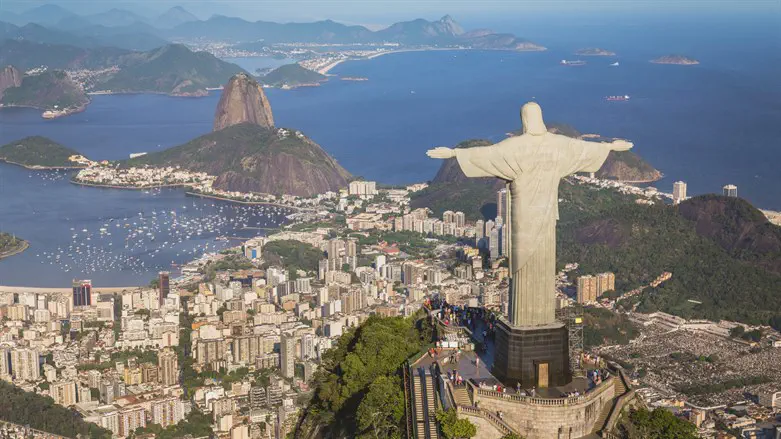 Rio De Janeiro
iStock
Two Iranian warships docked in Rio de Janeiro on Sunday after the Brazilian government granted permission despite pressure from the United States to bar them.
Rio's port authority said in a statement that the IRIS Makran and IRIS Dena warships both arrived on Sunday morning,
The Israeli Foreign Ministry is calling out the Brazilian government for allowing the ships to dock in its port. "Israel sees the docking of Iranian warships in Brazil a few days ago as a dangerous and regretful development," the Foreign Ministry wrote in a statement.
"Those ships were specifically designated by the United States only a few weeks ago, and they are part of the Iranian Navy, which works closely and synchronizes its actions with the Iranian Revolutionary Guard Navy, a designated terrorist entity," the statement continued.
The Foreign Ministry called on Brazil not to grant any "prizes" to a hostile state "responsible for numerous violations of Human Rights against its own citizens, executing terror attacks all over the world and proliferating weaponry to terrorist organizations all over the Middle East."
The statement concludes: "The Iranian regime has executed dozens of terror attacks against ships, putting in danger the maritime freedom of navigation. Two of the attacks occurred in recent weeks. This is the time to follow the steps taken by the EU, USA, Canada, Australia, Japan, and many other countries and single out the Iranian regime as what it really is: A terror entity. It is still not too late to order the ships to leave the port.
According to Reuters, Brazil had submitted to US pressure and declined Iran's request for the vessels to dock in late January, in a gesture from Brazilian President Luiz Inacio Lula da Silva, as he flew to Washington to meet President Joe Biden.
Nevertheless, now that Lula has returned from his trip, the ships have been allowed to dock. Vice Admiral Carlos Eduardo Horta Arentz, the deputy chief of Brazil's Naval Staff, approved the ships to dock in Rio between February 26 and March 4, according to a February 23 notice in the official gazette.