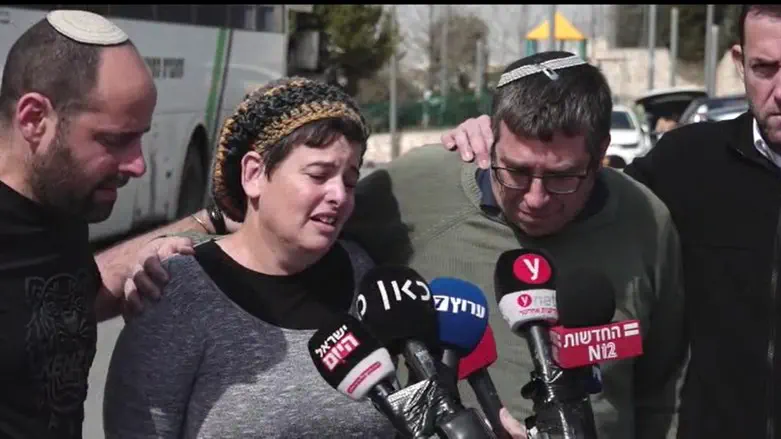 Esti and Shalom Yaniv, parents of Hillel and Yagel, Hy"d
Hillel Meir
Esti Yaniv, whose sons Hillel and Yagel were murdered by a terrorist in the Arab village of Huwara on Sunday, has expressed her horror at the launch of a campaign of support for the residents of Huwara, the initiative of left-winger and Labor Party activist Yaya Fink.
Fink is collecting donations for what he defines as the "Huwara pogrom victims." The "pogrom" referred to occurred several hours after the murders of the Yaniv brothers, when dozens of Jews converged on Huwara and set fire to cars in scrapyards, also causing fire damage to several buildings. According to uncorroborated Palestinian-Arab accounts, one person lost his life in circumstances that are unclear.
"Every day, I look down at the murderous village of Huwara where the murderer of my sons is still walking free, where they handed out pastries and celebrated after the murder," Esti Yaniv said. "I was horrified to hear of this dreadful campaign, [launched] a day after many of the residents of Huwara celebrated after the murder of my sons."
Click here to help commemorate Hallel and Yagel Yaniv
"We, the Jewish People must not become confused; we must remain clear in our minds," she added. "We are a people that desires life, and they are a people that desires death. Against this dreadful campaign of darkness, we are launching a campaign that will add light to the world, one that will contribute goodness and kind deeds to one another. A campaign that will strengthen the Settlement enterprise and will increase Torah learning; a campaign that will encourage and embrace our soldiers. We appeal to the entire Jewish People: Join us and help us to bring more light and goodness into the world, in memory of my pure and holy sons."
Yehuda Naumberg, Hillel and Yagel Yaniv's uncle, related, "When we first heard of this appalling campaign, a campaign that encourages terrorism and that tries to extend sympathy to our enemies, we thought we must be imagining things. It is like spitting in the faces of Yagel and Hillel. That's why my friends and I decided to urgently set up a campaign to increase light in the world, in the face of this tremendous darkness and confusion."