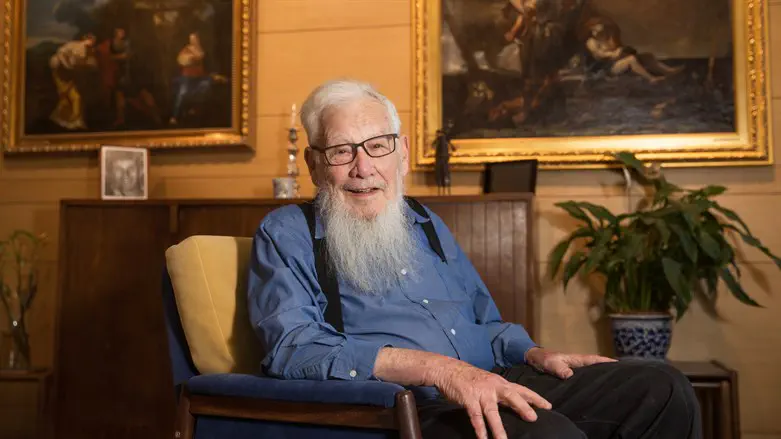 Prof. Yisrael Aumann
Yonatan Sindel/Flash90
120 professors, including several from each of Israel's universities, have launched a petition of support for the judicial reforms being proposed by Justice Minister Yariv Levin and Knesset Constitution Committee chairman MK Simcha Rothman.
Their petition states that, "Wide-ranging reform of the judicial system is vital, due to the judicial revolution led by Prof. Aharon Barak [a former Supreme Court President] which disturbed the balance of powers between the various branches of government."
According to the signatories, "The disturbance of the balance between the various powers and the strengthening of the power of the Supreme Court was achieved via various means: judicial oversight over primary legislation, specifically extending it to cover Basic Laws; extension of the principle of standing [allowing anyone to bring a suit, even if he is not personally affected by its content]; expansion of the doctrine of judicial review; expansion of the use of the principle of 'reasonableness'; the use of purposeful and objective interpretation; and greatly strengthening the authority of the Attorney-General and the government legal advisers. All these together have grossly disturbed the balance of powers between the aforementioned branches of government."
The petition also stresses that, "Legislative procedures in Israel provide great scope for discussion, precision, and persuasion. The appropriate place for discussing the details of the reform is the Knesset and substantive discussions should be held there, between the supporters of the reforms and their opponents, as is customary."
The professors conclude that reform should be carried out via negotiations which should not be permitted to damage the process. "As far as is possible, it is good to hold negotiations and strive for broad agreement, but this must not detract from the essential process of amending the judicial system, which in recent years has greatly overstepped its boundaries and encroached on the powers of the other branches of authority."
Among the signatories are: Israel Prize winner Professor Yisrael Aumann; Bar Ilan University Rector Prof. Amnon Albek; former Bar Ilan University Rector Prof. Yossi Yeshuron; and Prof. Amos Altshuler, a former member of the Higher Education Council. Other signatories include physicists, mathematicians, and professors of computer science from the Weizmann Institute and the Technion, as well as researchers and senior members of the Haifa, Bar Ilan, Hebrew, Tel Aviv, and Ben Gurion Universities.
The organizers of the petition note that this is only a preliminary list and that in the coming days many more academics are expected to join the list in order to express their support for the reforms.
The petition follows in the wake of another long list of professionals, jurists who support the government's proposed judicial reforms, as well as a billboard campaign launched in the past few weeks, calling on Justice Minister Levin and MK Rothman to hold strong and continue to advance their program, in keeping with their promises to those who voted them into power. Several of the billboards in the areas of Kfar Saba, Givatayim, and other towns have been vandalized.