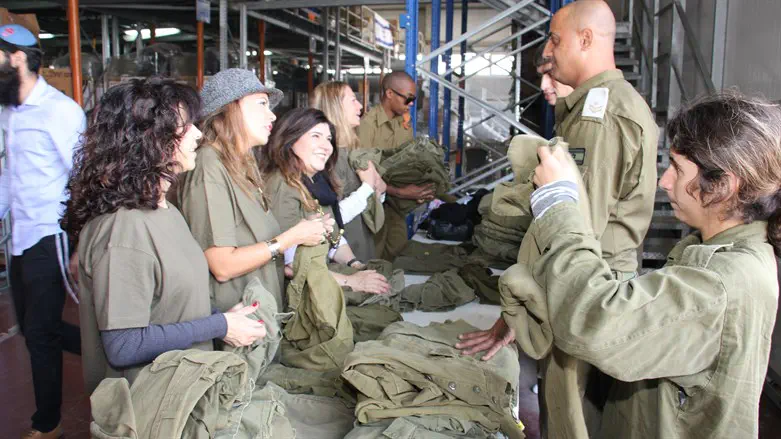 Special in Uniform soldiers prepare aid for Turkey
Special in Uniform
Following the catastrophic earthquakes that devastated Turkey and Syria on Monday, February 6, leaving over 46,000 dead and tens of thousands injured, the IDF's Home Front Command dispatched a large search and rescue team, dubbed the "Olive Branch" humanitarian aid delegation to Turkey. Israel was one of the very first countries to offer its help to the devastated country.
Despite very short notice, Israel's SAR team was ready for takeoff early Tuesday morning, largely due to Home Front Command's intensive efforts in Israel to arrange all logistics in time for departure. The medical delegation brought to Turkey 17 tons of medical equipment, as well as an additional 10 tons of logistical and administrative equipment. All these were superbly arranged and prepared for conveyance by Home Front Command's unit of Special in Uniform soldiers, a highly trained squad of elite soldiers with physical and mental disabilities and autism.
A collaborative effort of the IDF and JNF-USA, Special in Uniform is a program integrating young people with physical and mental disabilities into the Israel Defense Forces, and in turn into Israeli society. It focuses on the unique talents of each individual participant and incorporates him or her into the IDF with the belief that everyone belongs and has the right to achieve his full potential. Special in Uniform focuses on the ability, not disability, of each individual, encourages independence, inclusion and full integration into society and eventually the job market.
Armed with protective kits, medical supplies, and rescue equipment prepared by Special in Uniform's Home Front Command unit, the 150-person search and rescue team began its work in the earthquake zone on Tuesday, the day after the quake. The SAR team was accompanied by 230 medical personnel who were busy round-the-clock treating the wounded in a field hospital that opened in a local hospital abandoned during the quake. The field hospital boasted operating rooms, trauma units and laboratories and was operated by a team of trauma specialists, surgeons, anesthesiologists, orthopedists, pediatricians, intensive care specialists and emergency medicine doctors who treated over 200 patients and performed over 10 surgeries.
During eight days of tireless efforts, Israel's search and rescue teams saved 19 lives, while providing care to more than 470 injured civilians, including approximately 150 children and 50 dental patients.
Colonel Chai Rakah, Commander of the Dan District IDF Home Front Command, shares his experience from the mission: "Saving human lives is a central value of the Home Front Command, and we were committed to doing our utmost to rescue and help the injured and save as many lives as we could in Turkey. It was a great privilege for me to command the team. Our soldiers brought great honor to the IDF and country as a whole, and we will continue saving lives and helping anyone in need."
Roi, 20, a soldier with CP who works in the Logistics department on the Home Front Command's Arad Base near Ben Gurion Airport: "We worked nonstop that day, without taking a break to eat and barely to breathe! We knew that the faster we prepared those emergency kits and equipment, the faster the SAR team would be able to reach the earthquake zone and get to work. People were dying every minute over there in Turkey, and they needed our help. The Israeli team rescued 19 people, and it's amazing to know that, over here in Israel, we were part of that. We made it happen."
Home Front Command's Major Rami Hassan praises Special in Uniform's dedicated group of soldiers with disabilities. "They're a phenomenal team, dedicated kids who serve our country with love, faith, and commitment. Every day, I see how military service enhances their characters and personal growth, and how they, likewise, contribute their all to the IDF. Israel is the world's pioneer in creating an inclusive military, and now, people around the world are benefitting from their contribution to society. Without their concerted efforts, the rescue team wouldn't have left so soon."
Special in Uniform is continuing to spread its wings throughout Israel. At present, there are over 800 soldiers in 45 army bases in Israel participating in the program, and the immediate goal is to double that number.
"There is a highly motivated feeling here in the platoon, a desire to work hard and help others from the bottom of the heart. We've seen how SIU's units accomplish everything they set their minds to do. This time, their efforts enabled Israel's SAR team to be one of the very first to land in Turkey and offer its help, and we're so proud of them," says Lt. Col. (Res) Tiran Attia who directs Special in Uniform.
Alan Wolk who serves on the national board of Jewish National Fund-USA and as chair for Special in Uniform's U.S. Board of Governors expresses: "I think Special in Uniform's soldiers have a very powerful message of perseverance to send to the people of Turkey and Syria who are now at their most vulnerable. Our special soldiers have come so far, overcoming a myriad of challenges to serve in the IDF and contribute their talents to society. By personal example, they have taught us that those whom we may view as vulnerable or weak are truly cherished assets to society."