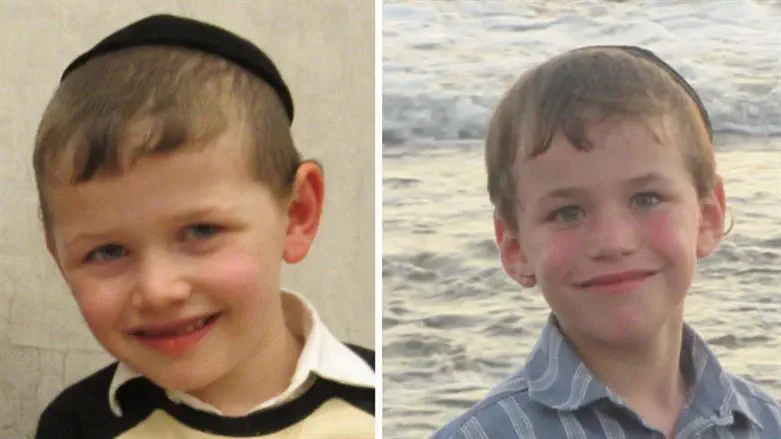 Asher and Yaakov Paley
picture used with permission of family
Avraham Noach Paley, the father of Asher Menachem and Yaakov Yisrael Paley, the eight and six-year old brothers who were murdered in a terrorist ramming attack in the Jerusalem neighborhood of Ramot nearly three weeks ago, was informed of the death of his children on Wednesday morning.
Paley, 42, was seriously injured in the attack and was kept under sedation for over two weeks during which he underwent multiple surgeries. He regained consciousness only several days ago.
He was informed of the tragic loss of his two sons by his wife, Devora, his mother, and his brother, with the aid of staff at Hadassah Ein Kerem Hospital, where he has been treated.
When he was informed of the horrific news, he burst into tears and said: 'Baruch Dayan Ha'emet' (Blessed is the true Judge), the expression used by believing Jews to express absolute acceptance of G-d's will.
Behadrey Haredim reported that Paley then said that, "G-d did this due to my sins," and also performed the traditional Jewish mourning practice of tearing his clothing. He stated his intention to observe the shivah mourning period until the festival of Purim (which falls next week), in conformance with halakha (Jewish law) which curtails the usual seven days of shivah if a festival intervenes.
One of the family members told Behadrey Haredim that Paley did not have any recollection of the attack whatsoever, making the news that much harder to absorb.
Dr. Vernon Van Heerden, the head of Hadassah Ein Kerem Hospital's General Intensive Care Unit, said earlier this week that after being sedated and on a respirator for the past few weeks, Avraham's condition has improved and he is now fully awake and communicating with others. He is, however, still considered to be in serious condition.