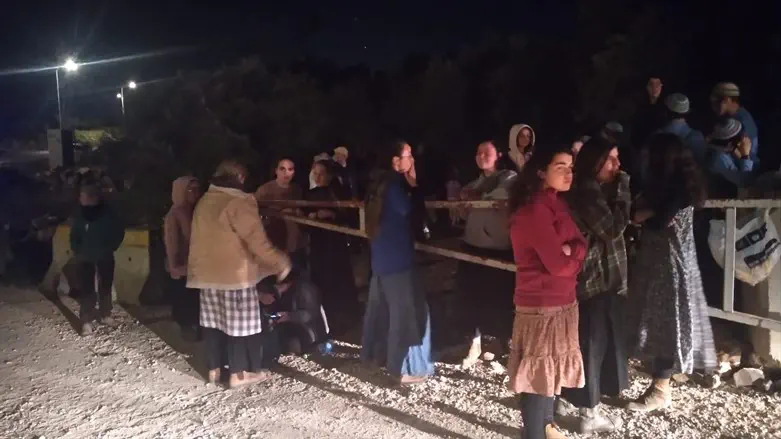 Evyatar
Spokesperson
Police forces on Tuesday evening once again evacuated the dozens of young men who were stationed at the outpost of Evyatar in Samaria.
An IDF soldier was lightly injured in the head after a right-wing activist punched him during the evacuation. The soldier was taken to hospital for medical treatment.
Activists streamed to Evyatar after two brothers from Har Bracha were murdered in a terrorist shooting attack in Huwara north of Tapuah junction on Sunday afternoon.
The Nachala settlement movement pointed an accusing finger at Prime Minister Benjamin Netanyahu on Tuesday evening, claiming that he is violating his commitment in the coalition agreement to immediately implement the Evyatar outline which signed by the previous government.
The agreement stipulated that the residents would leave the outpost and, in return, Israel would convert the site into a hesder yeshiva.
"Benjamin Netanyahu refuses to abide by the coalition agreement he signed. More than that, he is working with all his might to prevent the establishment of the community by sending hundreds of soldiers who try to prevent any access to the place and who even received an order to resort to violence against the residents," Nachala charged.
The activists are demanding that they be permitted to return to Evyatar immediately, as stipulated in the agreement.
"Netanyahu succumbed to the international pressures with regard to the Arab construction, that is taking over the areas in Judea and Samaria at an increased rate, while there is a severe freeze on Jewish settlement. There is a double standard here," said Nachala.
Finance Minister Bezalel Smotrich published a letter on Tuesday evening in which he stated that the government "will very soon implement the agreement signed by the residents of Evyatar. An agreement that the previous government signed and broke."
"I finally received the powers over Judea and Samaria only this past Thursday, and since then we have been working on it vigorously. The evacuation from there is unnecessary and harmful. I tried to prevent it by talking to the Prime Minister and the Minister of Defense and, unfortunately, I did not succeed. This is infuriating. But this too will be resolved in the end and, with the help of God, Evyatar will be established,'' clarified Smotrich.