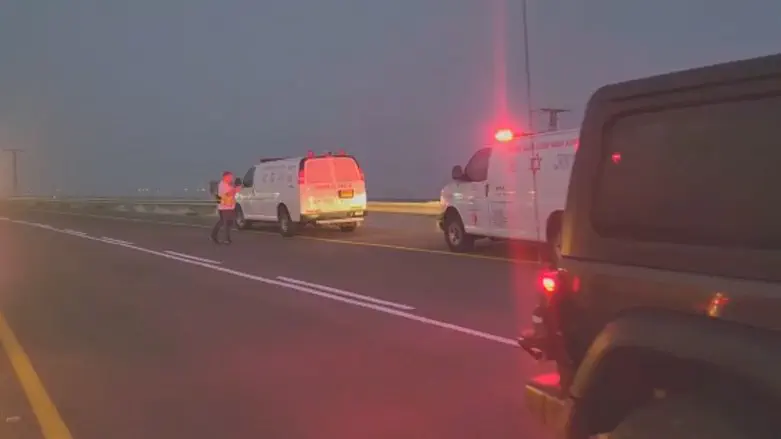 Scene of attack near Jericho
Magen David Adom
Hamas spokesman Abdul Latif al-Qanoua welcomed the shooting attack in the Jericho area on Monday, in which a 27-year-old man was murdered.
"The shooting action in Jericho came as part of the response to the crimes of the Zionist occupation and its hordes of settlers, and the latest of which was the savage aggression against our people in Huwara," said al-Qanoua, referring to the clashes that broke out in Huwara on Sunday night, following a terrorist attack in which two brothers were murdered.
"We salute the heroes of the resistance and the knights of the Lions' Den who confront the occupation and perform heroic actions against its soldiers and herds of settlers in defense of our people and our country," added the Hamas spokesman.
"Never will the crimes of the occupation and its hordes of settlers not be met by further stabbing, shooting and ramming, and they will set flames and fires all over the West Bank and Jerusalem," said al-Qanoua.
On Sunday, the Aqabat Jaber Camp Battalion of Hamas' military wing, the Al-Qassam Brigades, announced a general alert in all the villages and camps in Jericho in support of the residents of Huwara. Five operatives in this battalion were recently eliminated in an IDF operation in Jericho.
Earlier, the Telegram channel "Jenin Al-Qassam" published a message of mockery and a murder threat addressed to National Security Minister Itamar Ben Gvir.
"Ben Gvir, why are you hiding the truth from your people? Do you have the audacity to tell them that you are using them as a human shield?" said the message, which was written in Arabic and Hebrew.
"Do you have the audacity to tell them that in the next few moments there will be acts of revenge for the martyrs in our occupied lands and the reason is you! Ben Gvir, you are a coward."
The message also included a photo of Ben Gvir wearing an IDF uniform with the words: "You are the target".