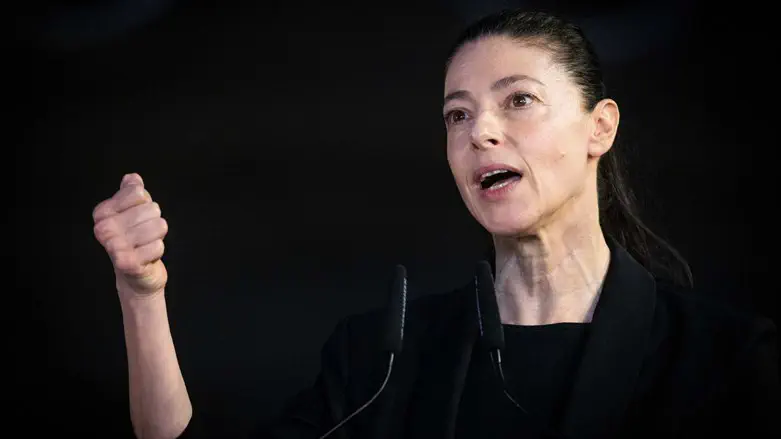 Merav Michaeli
Olivier Fitoussi/Flash 90
The chairwoman of the Labor Party, MK Merav Michaeli, on Sunday evening made a connection between the Jewish rioters in the village of Huwara and the right-wing ministers in the government.
The riots broke out following the terrorist attack in which brothers Hillel and Yagel Yaniv were murdered.
"The terrorists who are roaming around Hawara, setting fire and destroying everything in their path, are imbibing their legitimacy from senior members of this government. There is a reason that most of them are dawdling in condemning the organizers of the pogrom. This metastasis that threatens the country needs to be stopped as soon as possible, before it leads us to complete destruction," Michaeli wrote on Twitter.
Earlier, opposition leader Yair Lapid linked Minister Bezalel Smotrich to the clashes between Jews and Arabs in Huwara.
"Smotrich's militias set out to burn Huwara in order to torpedo the summit in Aqaba of Netanyahu and Gallant. This government is dangerous for Israel's security," Lapid wrote on Twitter.
Security forces late on Sunday evening were able to calm the situation in Huwara by using gas and stun grenades to disperse the rioters. Three Jews were injured from rocks thrown at them by Palestinian Arabs and two more were injured from the gas grenades used by security forces.
In the mosques in Huwara, calls were heard for Palestinian Arab residents to come out and confront the Jewish residents.
After the clashes broke out, the Palestinian Arabs claimed that Jews set fire to houses in the village and broke store windows. The Palestinian Red Crescent reported about 100 Palestinian Arab casualties in the clashes. This number has no confirmation from other sources.
Prime Minister Benjamin Netanyahu issued a statement on Sunday evening condemning the attack while also calling for restraint, urging Israelis against vigilante actions.
"A terrible tragedy occurred today. I would like to send condolences to the Yaniv family, which lost two of its dear sons; may God avenge them."
"The IDF and the security forces are currently in pursuit of the murderer. We will find him. We will apprehend him and we will settle accounts with him."
"I ask – even when the blood is boiling – not to take the law into one's hands. I ask that the IDF and the security forces be allowed to carry out their work. I remind you that in recent weeks, they have targeted dozens of terrorists and thwarted dozens of attacks."
"Let the IDF complete its pursuit and do not take the law into your hands; together we will defeat terrorism."