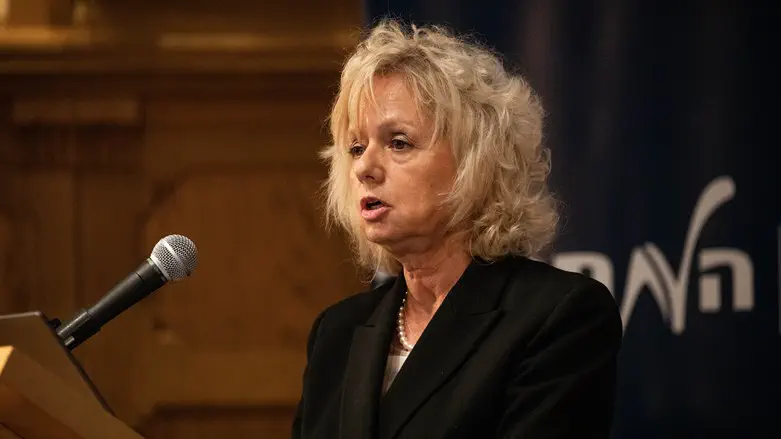 Gali Baharav-Miara
Shir Torem/Flash90
Attorney General Gali Baharav-Miara opposes the bill which the Ministerial Committee for Legislation will discuss today (Sunday) imposing the death penalty for certain terrorists, Yaara Shapira reported for Kan News.
The bill in question would impose the death penalty on a person who "intentionally or out of indifference causes the death of an Israeli citizen, when the act is carried out from a racist motive or hate to a certain public… and with the purpose of harming the State of Israel and the rebirth of the Jewish people in its homeland."
According to the report, the attorney general considers the bill unconstitutional, even though Israel does not have a constitution.
The attorney general's opinion states that "our professional position is that the death penalty should not be established for the crime of murder. The death penalty is not a deterrent and there is concern about the punishment, which by its nature is irreversible."
The opinion also states: "The bill also raises significant difficulties in the area of human rights law in international law. The bill does not pass the tests of the limitation clause in the Basic Law: Human Dignity and Freedom, and is therefore unconstitutional."
"As the government is considering supporting this bill, our position is to first bring the issue to the cabinet for discussion, during which the current positions of the security forces will also be presented, so that the full possible consequences [of the bill] and the justifications for advancing the bill will be considered."
National Security Minister Itamar Ben-Gvir promoted the bill to impose the death penalty for terrorism following the massacre outside a synagogue in the Neve Yaakov neighborhood of Jerusalem a month ago. Seven people were murdered in the attack as they left Shabbat prayer services.
Following the attack, Ben-Gvir said that "soon we will introduce the death penalty law for terrorists, those who massacre civilians should get the electric chair."