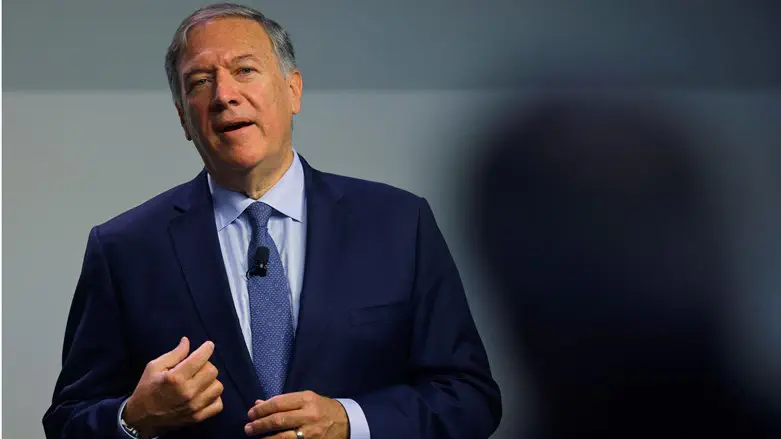 Mike Pompeo
REUTERS/Brian Snyder
National Security Minister Itamar Ben-Gvir met with former US Secretary of State Mike Pompeo in Tel Aviv, Channel 13 News reported Thursday evening.
Pompeo is considered a great supporter of Israel as well as of the settlement movement in Judea and Samaria, and yet even he has objections to Minister Ben-Gvir, who has been called a 'right-wing extremist.'
The meeting was held yesterday in a hotel in Tel Aviv and lasted almost an hour, during which Pompeo told Ben-Gvir of the concern expressed by the Biden administration and the Jewish communities in the United States over the government's planned judicial reforms and the uproar they are causing in Israel. Among other things, Pompeo said that changes can be made a step at a time, rather than "all at once."
The two also discussed tensions over the Temple Mount, which is the holiest site in Judaism. Jewish visits to the Temple Mount have been used as justification for anti-Jewish violence due to the presence of the Al Aqsa Mosque, the third-holiest site in Islam, on the southern edge of the mount. Jews who visit the mount are accused of 'storming the Al Aqsa Mosque' even while simply walking far from the mosque, and Jews who pray on the mount are accused of performing 'Talmudic rituals.'
A source familiar with the meeting told Channel 13 News that Pompeo expressed that it was important to hear that there was no intention harm specific populations in Israel, such as the Arab-Israeli population. It seems that Ben-Gvir pledged to the former Secretary of State that he had no such intentions.
Pompeo is the most senior American official Ben-Gvir has met since assuming office, and he is reportedly considering seeking the Republican nomination for the 2024 US presidential election. The Biden Administration has so far boycotted Ben-Gvir because its officials are uncomfortable with Ben-Gvir's accused far-right views and policies.
Ben-Gvir's office initiated the meeting, and Pompeo agreed to meet him.
Last week, Pompeo told the One Decision podcast that the State of Israel is "not an occupying nation" because of the Jewish people's Biblical claim to Judea and Samaria.
In 2020, Pompeo became the first US Secretary of State to visit the Israeli-controlled part of the Golan Heights, as well as Jewish communities in Judea and Samaria. He also announced during his visit that the US would allow products from Judea and Samaria to be labeled "Made in Israel."