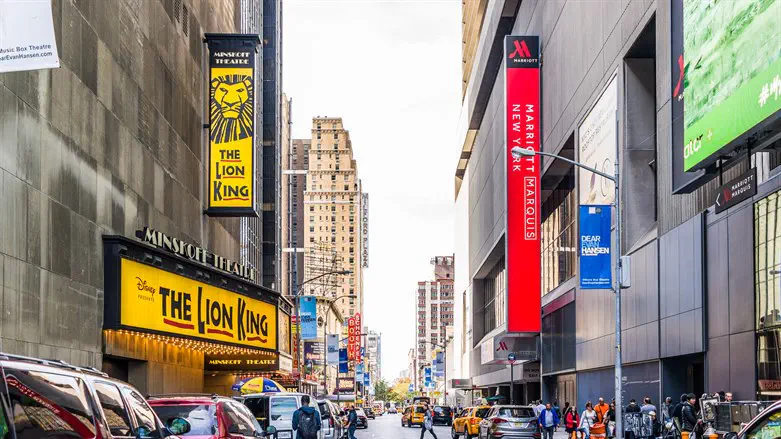 Broadway
ISTOCK
A neo-Nazi group protested on Tuesday outside the Broadway musical "Parade" that tells the story of Leo Frank's 1915 lynching in Atlanta after he was found guilty, in a trial with antisemitic undertones, of murdering a teenage girl in 1913.
The musical, starring Jewish actor Ben Platt, opened in previews this week at the Bernard B. Jacobs Theatre in New York City.
A video posted to Twitter showed a group of antisemitic demonstrators from the National Socialist Movement hate group standing outside the theater and screaming antisemitic abuse at attendees.
According to the ADL, the National Socialist Movement is the largest neo-Nazi organization in the US and it has promoted "virulently antisemitic and racist ideology at rallies throughout the country."
In the video, the neo-Nazis gathered on the sidewalk accost theatergoers, yelling at them: "Learn the truth about the ADL, brother. You want the truth about who you're going to see tonight. You're paying three hundred bucks to go f***ing worship a pedophile, you might as well know what you're talking about."
Another protester shouts: "Romanticizing pedophiles, wow, Leo Frank."
According to Broadway World, there were also chants calling Frank a "Jewish pedophiles" and a banner that said, "Leo Frankly was a pedo."
The Forward's engagement editor Jake Wasserman also tweeted a photo of flyers the protesters handed out that accused the ADL of being "established in 1913 to protect a Jewish child murdering pedophile Leo Frank."
Platt said in an Instagram video: "For those who don't know, there were a few neo-Nazi protesters from a really disgusting group outside of the theater, bothering some of our patrons on their way in and saying antisemitic things about Leo Frank, who the show is about, and just spreading antisemitic rhetoric that led to this whole story in the first place."
He continued: "If you don't know about it, I encourage you to look up the story and most importantly encourage you to come see the show, and it was definitely very ugly and scary but a wonderful reminder of why we're telling this particular story and how special and powerful art and, particularly, theater can be. And just made me feel extra, extra grateful to be the one who gets to tell this particular story and to carry on this legacy of Leo."
"Parade" stars Platt, known for his role in "Dear Evan Hansen," as Frank in a new revival of the 1998 Broadway musical "Parade," a dramatization of Frank's 1915 lynching at the hands of a gang of white Southerners. The show will have a limited run November 1–6 at the New York City Center as its annual gala presentation.
Frank was a pencil factory manager in Atlanta who was tried and sentenced to death, on specious evidence, of assaulting and murdering a teenaged factory worker in 1913. The case of "Little Mary Phagan" became national tabloid fodder as, unusually for the time, an all-white jury accepted the testimony of a black man who identified Frank as the perpetrator and portrayed him as a sexual pervert. Numerous elements of the trial had antisemitic connotations, including the fact that one jury member was overheard saying, "I'll hang that Jew for sure."