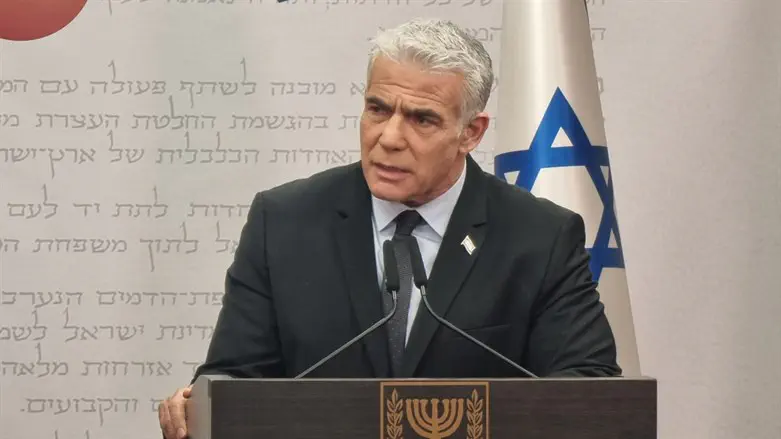 Yair Lapid
Israel National News-Arutz 7
Opposition leader Yair Lapid warned Sunday morning that Israel is "losing the US" as a result of the government's actions.
"The Americans talk to me all the time and they are horrified by what is happening," Lapid said in an interview with Kan Reshet Bet.
He dismissed claims that the US is interfering in Israel's internal affairs, saying: "We ask the US to interfere [in our affairs] every day, from aid to funding the Iron Dome. The Americans say clearly that our alliance is based on our shared democratic values, and if you don't maintain them, then the alliance will end."
Lapid also reiterated his demand that the coalition halt the legislation on Justice Minister Yariv Levin's judicial reforms as a precondition for entering into negotiations on the reforms, saying: "We won't negotiate with a gun to our head."
"No one claims that there is no room for improvement in the judicial system - but not like this, not under these conditions," he said.
US Ambassador to Israel Thomas Nides said over the weekend that the Biden Administration has called on the Israeli government to slow down its planned judicial reforms.
Ambassador Nides said on CNN's The Axe Files podcast that "At the end of the day, the United States is not going to be in the position to tell and dictate to Israel how they pick their Supreme Court, I don't think we should do that." However, the Ambassador added that "the one thing that binds our countries together is a sense of democracy and a sense of democratic institution. That's how we defend Israel at the UN, that's how we stand up for the values that we share."
He said: "When we believe that those democratic institutions are under stress and strain, we articulate it. That's What we're doing now, we're telling the Prime Minister, as I tell my kids, pump the breaks, slow down, try to get a consensus, bring the parties together, this is very complicated, they're trying to do things way too fast."