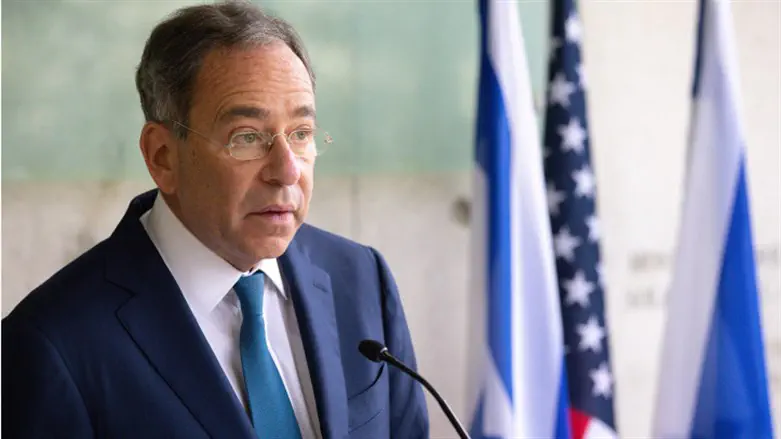 US Ambassador to Israel Thomas Richard Nides
Olivier Fitoussi/Flash90
US Ambassador to Israel Thomas Nides said over the weekend that the Biden Administration is calling on Prime Minister Benjamin Netanyahu to slow legislation of the government's plan to change the judicial system.
Nides insisted on CNN's The Axe Files podcast that "At the end of the day, the United States is not going to be in the position to tell and dictate to Israel how they pick their Supreme Court, I don't think we should do that." However, the Ambassador added that "the one thing that binds our countries together is a sense of democracy and a sense of democratic institution. That's how we defend Israel at the UN, that's how we stand up for the values that we share."
The ambassador continued to explain: "When we believe that those democratic institutions are under stress and strain, we articulate it. That's What we're doing now, we're telling the Prime Minister, as I tell my kids, pump the breaks, slow down, try to get a consensus, bring the parties together, this is very complicated, they're trying to do things way too fast."
The ambassador also discussed Israel's decision to expand construction in Judea and Samaria. "Joe Biden has made it clear he cares deeply about this bilateral relationship, but we will not roll over, we will not ignore actions that we think are against our values. And we will work not only with the Israeli government but we'll work with the world. As you probably saw, literally a day and a half ago, the US led the Europeans on a very strong message to Israel about what we thought (of how) the settlement announcement outposts were done. And we're advising, we're talking, we're having conversations about actions we can and should do vis-a-vis this. But this administration is not the first administration that has dealt with, as you know, the settlement issue. And it won't be the last. We have a clear view that a two-state solution is the only way to keep Israel a democratic Jewish state. And we will continue to articulate very aggressively that position"