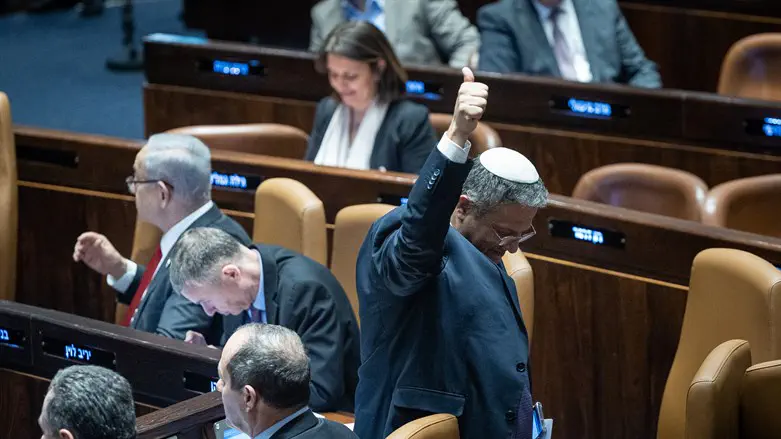 Itamar Ben-Gvir
Yonatan Sindel/Flash90
Prime Minister Benjamin Netanyahu sent his military secretary to pressure National Security Minister Itamar Ben-Gvir to stop the police counter-terrorism operation in Arab neighborhoods of Jerusalem, Kan 11 reported Thursday evening.
Ben-Gvir initiated the operation in response to the recent spate of terrorist attacks in Jerusalem in which 11 Israelis have been murdered.
Netanyahu moved to end the operation after receiving warnings from numerous senior security officials that the operation could lead to a flare-up of violence in Jerusalem. The Prime Minister met with the IDF Chief of Staff, the police commissioner, and the head of the Shabak, all of whom conveyed the warning to him.
Following his meetings with these officials, Netanyahu sent his military secretary, military secretary Major General Avi Gil, to speak to Ben-Gvir about the need to halt the operation and to prevent a breakout of violence in the Arab neighborhoods of Jerusalem. Netanyahu has not spoken to Ben-Gvir directly on the issue or moved to stop the operation himself.
Since the operation was launched four days ago, police have significantly stepped up law-enforcement activity in Jerusalem.
To date, five weapons and 34 vehicles have been seized and 17 illegal buildings have been demolished. Goods worth millions of shekels were seized, as was NIS 300,000 in terrorist funding. 468 municipal inspection reports and 498 traffic reports were handed out, and 37 writ of execution orders were implemented. The police set up 199 roadblocks and checkpoints in Arab neighborhoods and inspected 11,210 citizens and 5,909 vehicles.
IDF Chief of Staff Herzi Halevi also warned Prime Minister Netanyahu not to transfer authority over the Jewish communities of Judea and Samaria from Defense Minister Yoav Gallant to Finance Minister Bezalel Smotrich, as per the coalition agreement between Likud and the Religious Zionism party.
Halevi warned that the splitting of authority between two ministers could create problems in the chain of command.
Attorney General Gali Baharav-Miara also warned that there may be legal problems with transferring those powers to Smotrich given the disputed status of Judea and Samaria under international law.