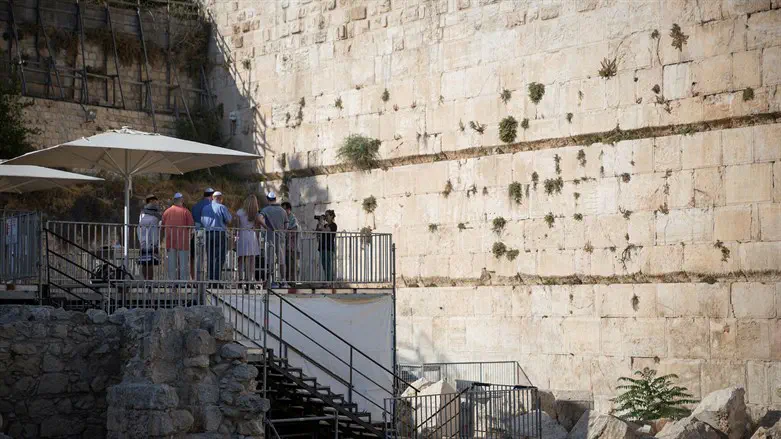 Ezrat Yisrael
Adi Gefen/TPS
The State submitted its response to the Supreme Court on the petitions demanding the implementation of the 'Western Wall Outline' and the development of the area for egalitarian prayer at the Western Wall.
The State stated in its response that the position of Prime Minister Benjamin Netanyahu is to continue the implementation of the directive from 2017 according to which, while the Western Wall compromise would not be implemented, the development of the 'Ezrat Yisrael,' the area for egalitarian prayer at the southern part of the Western Wall, will resume as soon as possible.
In the coming days, the Prime Minister's Office will issue instructions to submit building permits to expand the Ezrat Yisrael.
The Prime Minister's position is that finding a solution to a sensitive and complex issue of this kind, which concerns at least in part the issue of freedom of worship, falls under the purview of the executive branch of government. Therefore, the political echelon should be allowed to pursue a solution which will satisfy all parties, he believes.
The "Western Wall compromise," as it was dubbed when the deal was struck in January 2016, was an agreement between Israeli government officials and diaspora Jewish leaders to create a permanent space for egalitarian prayer at the Western Wall.
The main Western Wall plaza, which is controlled by an Orthodox foundation, is divided into separate men and women's prayer spaces where women are not allowed to read from a Torah scroll, in line with traditional Jewish practice.
The egalitarian plaza to the south of the main plaza is located on a temporary platform atop an archeological park. The compromise would have seen that area expanded and built into a permanent structure designated for egalitarian prayer.