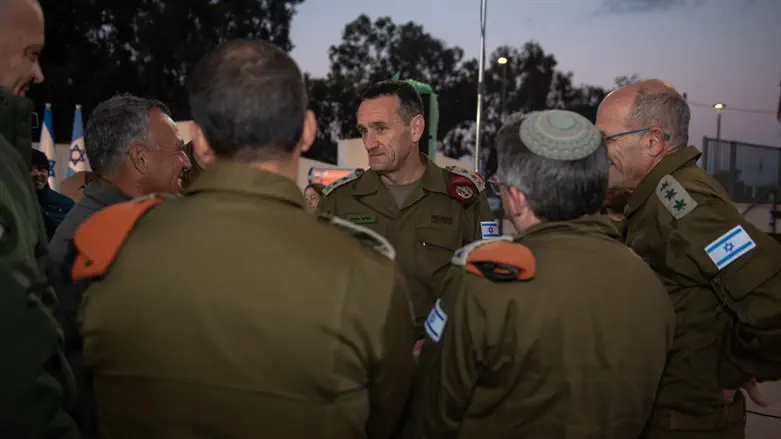 IDF aid delegation returns to Israel
IDF Spokesperson's Unit
The IDF "Olive Branches" humanitarian aid delegation, which comprised a search and rescue delegation led by the Home Front Command and a medical aid delegation led by the Medical Corps in the Technological and Logistics Directorate (J4), completed its mission upon the return of the medical aid delegation to Israel on Wednesday.
The medical aid delegation arrived in Turkey on Wednesday, February 8, 2023, following the earthquakes in the south of the country that killed and injured tens of thousands. The delegation assisted in reopening a local hospital in the city of Kahramanmaraş, where its members provided medical treatment to the wounded.
The medical aid delegation included approximately 150 doctors, nurses, surgeons, anesthesiologists, X-ray technicians, laboratory technicians, paramedics and medical logistics personnel. Also participating in the delegation were representatives from Magen David Adom (MDA), the Ministry of Health and additional bodies.
Over the past seven days of continuous efforts, the delegation treated over 470 injured civilians, including approximately 150 children and approximately 50 dental patients. In addition, 10 surgical and orthopedic operations were performed. The delegation also treated wounded Syrians who were in Turkey at the time of the earthquakes.
The delegation returned to Israel aboard IAF aircraft.
Head of the Technological and Logistics Directorate (J4), MG Michel Yanko, said, "You led a stubborn, dedicated and determined effort to save lives. "You have proven that nothing compares to your professionalism, your dedication, your spirit. You embodied the truest face of the IDF and the State of Israel."
Deputy IDF Surgeon General and Head of the IDF Medical Department, COL Dr. Tomer Koller, added, "Saving human lives is the key value and cornerstone of the Medical Corps. From the start, we knew it was our responsibility to come to Türkiye and save lives. Our mission ended today, following eight days during which we treated about 470 sick and wounded civilians, working shoulder-to-shoulder with the Turkish teams with one shared goal - to save lives. It was a great privilege for me to command the excellent medical teams that brought great honor to the country and the IDF. We will continue to save lives and help anyone in need wherever required."