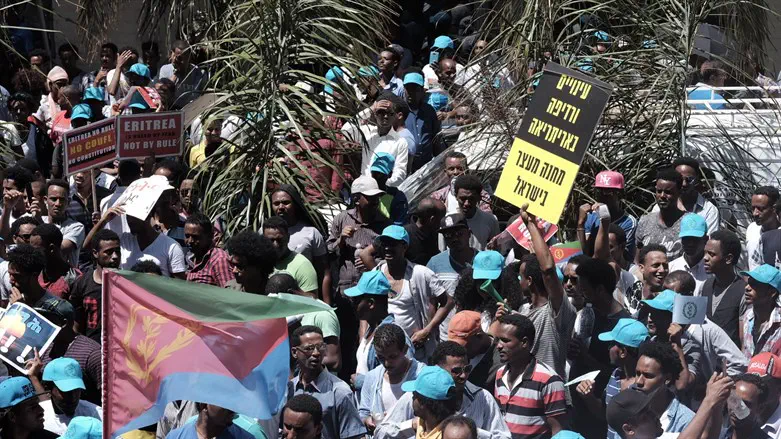 Eritrean infiltrators demonstrate in Ramat Gan
Tomer Neuberg/Flash90
An Israeli court handed down a precedent-setting ruling recently, which could potentially impact immigration policy vis-à-vis thousands of illegal immigrants from northeastern Africa.
Judge Hanania Guggenheim ruled earlier this month that desertion from military service in Eritrea is not grounds for avoiding deportation. The ruling came in response to a petition for refugee status from an illegal immigrant who appealed the decision of the Israeli Population and Immigration Authority to reject his request for asylum.
The 34-year-old illegal immigrant demanded to receive refugee status after being imprisoned in Eritrea for deserting the army. In 2010 he infiltrated Israel through the Israeli-Egyptian border.
As part of the procedure, an opinion was submitted by the Immigration Policy Center, which joined as an Amicus Curiae. The opinion of the Immigration Policy Center was based on the situation of the military service in Eritrea, reports of international supranational organizations and judgments of international courts on the matter.
In his ruling, Guggenheim accepted the main arguments of the Immigration Policy Center, according to which mandatory military service in Eritrea is not sufficient basis to establish a refugee claim in Israel.
Among other things, Guggenheim wrote that "there is a widespread phenomenon of returning to Eritrea permanently. Thousands of Eritrean citizens have voluntarily returned to their country of origin from Israel over the years", an opinion presented by the representative of the Immigration Policy Center, Dr. Yona Cherki, showing that even the Eritreans who are in Israel do not see any real danger in returning to their country.
According to Dr. Cherki: "This verdict may be the last brick in the wall towards stopping infiltrators from Africa. After the outgoing Minister of the Interior removed the group protection for the Congolese and laid the legal infrastructure for the removal of the group protection for the Sudanese in Israel, this ruling destroys the claims of danger in returning to Eritrea."
"This is a seminal ruling in the field of immigration in Israel. The ruling states in a verdict of over a hundred pages that there is no basis for the request to be granted refugee status by Eritrean nationals who infiltrated Israel," he added.