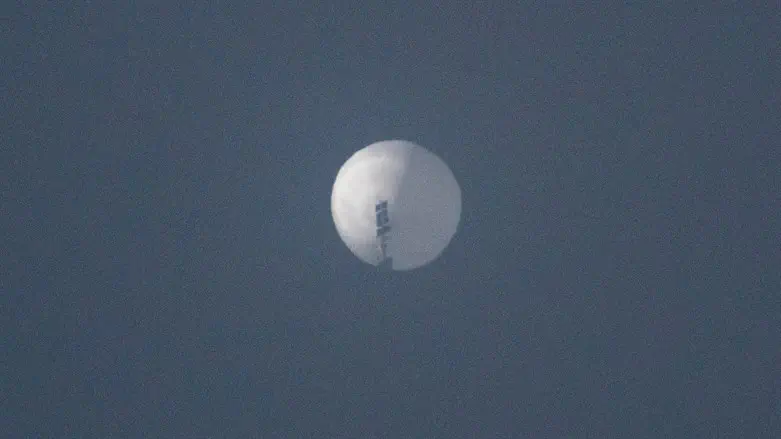 The suspected Chinese balloon seen over Billings, Montana
Chase Doak/via REUTERS
China claimed on Monday that more than 10 US high-altitude balloons have flown in its airspace during the past year without its permission, The Associated Press reported.
China's claim followed Washington's accusation that Beijing operates a fleet of surveillance balloons around the world.
Foreign Ministry spokesperson Wang Wenbin gave no details about the alleged US balloons, how they had been dealt with or whether they had government or military links.
"It is also common for US balloons to illegally enter the airspace of other countries," Wang was quoted as having said at a daily briefing. "Since last year, US high-altitude balloons have illegally flown over China's airspace more than 10 times without the approval of Chinese authorities."
Wang said the US should "first reflect on itself and change course, rather than smear and instigate a confrontation."
The Chinese allegation comes days after the US shot down a suspected Chinese spy balloon that had crossed from Alaska to South Carolina.
This was followed by a spate of incidents in which suspicious objects have been downed over the US and Canada.
On Friday, the US military shot down a "high-altitude object" flying over Alaska airspace on the orders of President Biden.
On Saturday, North American Aerospace Defense Command (NORAD) shot down an "unidentified object" over the Canadian territory of Yukon on the orders of Canadian Prime Minister Justin Trudeau.
The Prime Minister added he ordered the object to be shot down after it violated Canadian airspace.
And, on Sunday, the US military shot down another high-altitude object over Lake Huron.
In Washington on Monday, National Security Council spokesperson Adrienne Watson said that any claim that the US government operates surveillance balloons over China is false.
"It is China that has a high-altitude surveillance balloon program for intelligence collection, connected to the People's Liberation Army, that it has used to violate the sovereignty of the United States and over 40 countries across five continents," Watson said, according to AP.
"This is the latest example of China scrambling to do damage control. It has repeatedly and wrongly claimed the surveillance balloon it sent over the United States was a weather balloon and to this day has failed to offer any credible explanations for its intrusion into our airspace and the airspace of others," she added.