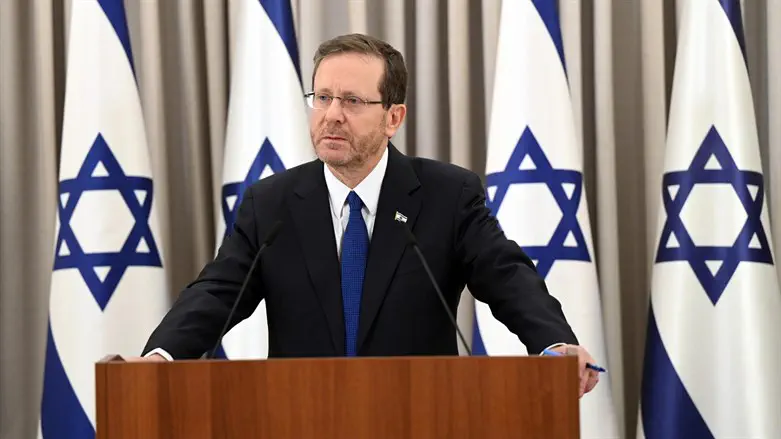 Herzog
Haim Zach/GPO
Israel's president called for greater dialogue between the Right and Left, warning Sunday that the country is descending into a major social crisis.
In a televised address Sunday evening, President Isaac Herzog reiterated his call on the Netanyahu government and the Opposition to reach a compromise on the proposed judicial reform plan.
"Some of the things I am going to say tonight may not be pleasant to one side or the other. Over the past few weeks, I have worked with all my strength to bring about a broad agreement [for a compromise]. If one side manages to force its [position] over the other, and it doesn't matter who prevails, Israeli society as a whole will lose."
"We need to stop this fiery polarization before it burns us all. We are on the verge of a constitutional and social collapse. I see and hear the protests; a great mass of patriots who are dedicated to the fate of this nation and the state."
"We are on the verge of civil violence. And in extreme situations like this, like some of my predecessors, I refuse to stand idly by."
Herzog acknowledged the need for judicial reform, emphasizing the independence of the Israeli legislature, while also calling for greater ethnic diversity in the judiciary.
"The people's legislature is the Knesset, it is the sovereign. The judiciary needs to be a home for every part of society. These reforms didn't come out of nowhere. They are the result of a deep-seated pain. The lack of Mizrachi Jews as judges, for example, bothers me greatly."
"This pain reached its apogee during the [2005 Gaza] Disengagement."
Herzog's address came hours after the Knesset debated the Netanyahu government's planned judicial reform plan, which would include an amendment to Israel's Basic Laws, explicitly prohibiting the Supreme Court from applying judicial review to Basic Laws; an "Override Clause" enabling the Knesset to veto Supreme Court rulings striking down Knesset laws; greater influence for the Government and Knesset in appointing new judges; an end to the use of the "reasonableness" standard; and a provision allowing government ministers to select their own legal advisers, independent of the Justice Ministry.
In his speech, Herzog called on the Netanyahu government not to move forward with its plans to bring part of the reform plan to a vote in the Knesset committee Monday, thus delaying the expected Knesset plenum vote Wednesday.
Instead, Herzog urged the government to work towards reaching a compromise with the Opposition, enabling passage of a more moderate reform plan.