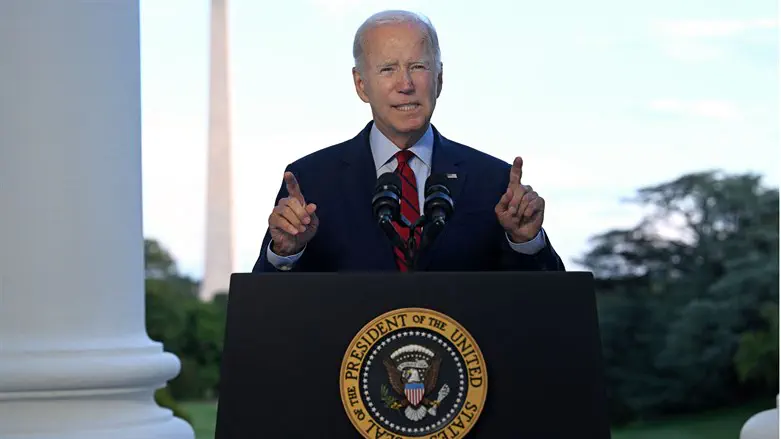 Joe Biden
Pool/ABACA via Reuters Connect
On the orders of President Joe Biden, the US military on Friday afternoon shot down a "high-altitude object" flying over Alaska airspace, NBC News reported.
National Security Council official John Kirby said that the Department of Defense had been tracking the object over the last 24 hours.
"The object was flying at an altitude of 40,000 feet and posed a reasonable threat to the safety of civilian flight. Out of an abundance of caution, and at the recommendation of the Pentagon, President Biden ordered the military to down the object and they did and it came inside our territorial waters and those waters right now are frozen," Kirby told reporters at the White House briefing.
Fighter aircraft assigned to US Northern Command took down the object "within the last hour," Kirby said at approximately 2:30 p.m. EST.
While the incident comes a week after the US downed a suspected Chinese spy balloon off the coast of the Carolinas, Kirby said the US is not referring to Friday's object as a balloon and has yet to attribute to China or any other entity.
"We're calling this an object because that's the best description we have right now. We don't know who owns it – whether it's state-owned or corporate-owned or privately owned, we just don't know," Kirby said, according to CNN.
He added: "We don't have any information that would confirm a stated purpose for this object. We do expect to be able to recover the debris since it fell not only within our territorial space, but on what we what believe is frozen water. So a recovery effort will be made and we're hopeful that it will be successful and then we can learn a little bit more about it."
The object was "much, much smaller" than the Chinese suspected spy balloon, Kirby said, comparing it to "roughly the size of a small car." The balloon downed last Saturday was described by US officials as approximately the size of three buses.
Biden "absolutely was involved in this decision" and ordered it at the recommendation of Pentagon leaders, Kirby said.
China said last week it is "strongly discontented" with the US downing of its surveillance balloon, adding it reserves the right for any necessary reaction to the incident.
Biden, however, said relations between Washington and Beijing were not weakened by the downing of the balloon.
Speaking to reporters outside the White House, Biden said it was always his view that the balloon needed to be shot down "as soon as it was appropriate."
Asked if the balloon incident weakens US-China relations, Biden replied, "No. We made it clear to China what we're going to do. They understand our position. We're not going to back off."
(Israel National News' North American desk is keeping you updated until the start of Shabbat in New York. The time posted automatically on all Israel National News articles, however, is Israeli time.)