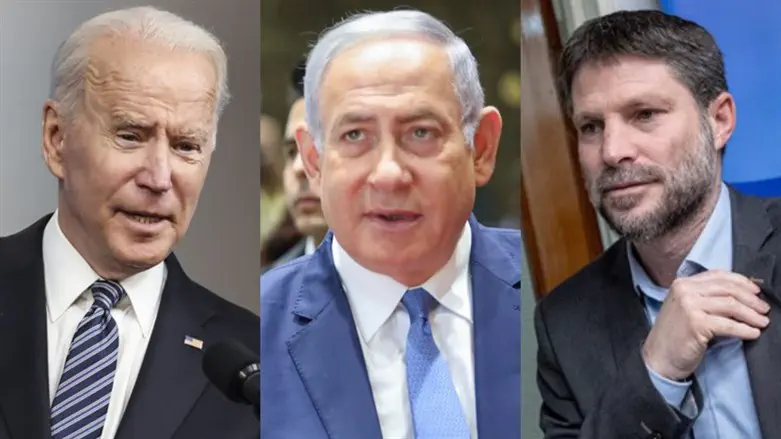 Biden, Netanyahu, and Smotrich
Flash 90 and Reuters
The Biden administration has warned the Israeli government that, as far as it is concerned, the transfer of authority over Jewish settlements in Judea and Samaria to Minister Bezalel Smotrich will be considered a step of annexation, Walla and Axios correspondent Barak Ravid reported Thursday evening.
According to the report, last week US Assistant Secretary of State Barbara Leaf visited Israel and held talks with National Security Adviser Tzachi Hanegbi and senior officials in the political system, in an attempt to promote moves that would prevent a security escalation in Judea and Samaria.
According to a number of senior officials who were involved in the talks, Leaf told Hanegbi that the Biden administration is concerned about the transfer of powers to Smotrich because, from the American point of view, this is a step towards the annexation of the Israeli-controlled territories in Judea and Samaria by Israel.
Under the the coalition agreement, Minister Smotrich is supposed to receive the authority over the Civil Administration and COGAT - the bodies responsible for civilian policy in Judea and Samaria.
Defense Minister Yoav Gallant opposes the move and Prime Minister Benjamin Netanyahu is attempting to reconcile the differences between the two.
A spokesman for the US State Department said in response that "the Biden administration believes it is critical for Israel and the Palestinians to avoid unilateral steps that would exacerbate tensions and undermine efforts to advance negotiations on a two-state solution, such as steps towards annexation. This certainly includes the further extension of Israeli civilian law to the West Bank".
The Prime Minister's office refused to comment on the matter.
A senior official in the government said in response to Israel National News - Arutz Sheva: "It is unthinkable that the US interferes in the division of powers of the Israeli government. After decades in which the settlers of Judea and Samaria live under a military regime, the time has come to provide equal citizenship and proper services to the settlers as well. There are coalition agreements and all the party leaders will insist that they be fulfilled and so it will be."