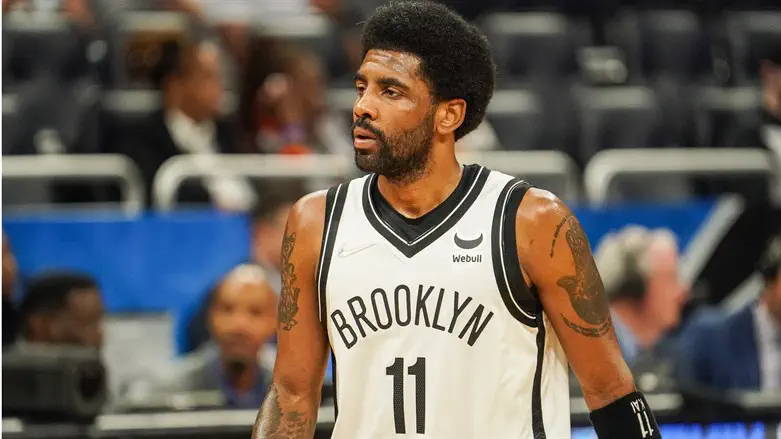 Kyrie Irving
Marty Jean-Louis/Sipa USA via Reuters Connect
Dallas Mavericks player Kyrie Irving is under fire for deleting an Instagram apology written to the Jewish community after his sharing of a link to an antisemitic documentary.
Irving initially shared the clip from the documentary "Hebrews to Negroes: Wake Up Black America" in a Twitter post. The film contains multiple antisemitic tropes.
At first Irving refused to apologize and was suspended by the Brooklyn Nets. He later apologized, issuing a statement on Instagram after his suspension.
This week, it was announced the Irving was traded from the Nets to the Dallas Mavericks, a team with a Jewish owner. Mark Cuban, grew up in Mount Lebanon, Pennsylvania, a suburb of Pittsburgh, in a Jewish working-class family.
The trade came two days after Irving requested a trade out of Brooklyn following failed negotiations on a contract extension.
Now, Kyrie is being blasted for removing the apology from his Instagram account without explanation.
"I delete a lot of things on my Instagram," Irving said after being questioned about his intention. "I've had things that have happened before in my life. Probably not as drastic of that moment which led to a lot of confusion, uncertainty, I felt like. What I meant, and what I stand for, and I had to sit up with these mics and explain to the world who I am, and I know who I am."
"I delete things all the time, and it's not disrespect to anyone in the community, just living my life," Irving told reporters.
When questioned if he still stood by his apology, he replied: "I stand by who I am and why I apologized. I did it because I care about my family, and I have Jewish members of my family that care for me deeply. Did the media know that beforehand when they called me that word 'antisemitic'? No. Did they know anything about my family? No."
The basketball player shot back that with the media, "everything was assumed."
"Everything was put out before I had anything to say, and I reacted instead of responding emotionally maturely," he said. "I didn't need to be defensive or go at anybody, so I stand by my apology, and I stand by my people, everywhere. All walks of life, all races, all religions, same thing."
Asked about conversations he has had with Jewish family members subsequent to the controversy, and if sharing the film was hurtful to them, he replied: "I've had a lot of conversations about world history. What was contained in there was contained in there. I didn't agree with everything. I've been up here saying that. I'm just going to leave it at that. My family's my family."
The NBA star continued: "If the media cared about my family, and I'm not saying all the media; I don't want to get at everybody, but specific media members actually cared to do research instead of being the first to report things, then they would know where I come from."
"The diversity of my family is beautiful, and I'm just going to continue to focusing on them, and when I'm in the court, try not to be distracted by y'all," he added.
The Nets suspended Irving at the start of November for a minimum of five games after he shared a link to the antisemitic film, "Hebrews to Negroes: Wake Up Black America," and then refused to "unequivocally say he has no antisemitic views."
Irving subsequently apologized in an Instagram post and also met with NBA Commissioner Adam Silver, himself a Jew, who later said that after meeting with Irving, he has "no doubt that he's not antisemitic."
The Nets subsequently lifted Irving's suspension and he issued an apology to the Jewish community before returning to play.
Despite his apology, sportswear giant Nike announced at the start of December that it was severing ties with Irving.