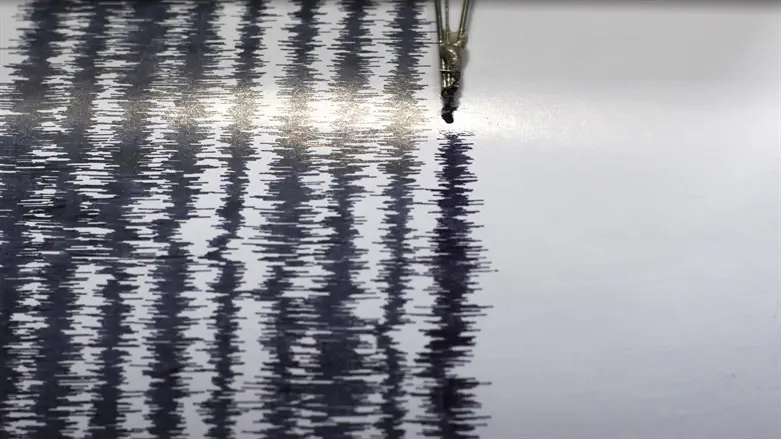 Earthquake
Reuters
An earthquake was felt in Israel on Tuesday evening. The Seismological Division of the Geological Survey of Israel said, "Tonight at 11:14 p.m. Israel time, an earthquake of magnitude 3.5 occurred 15 kilometers southeast of Ariel."
The Home Front command noted that "an earthquake warning was not activated, because it was not an earthquake that endangers the residents of Israel."
Residents in the Jerusalem area and parts of Judea and Samaria reported that they felt the earthquake.
A resident of Beit El told Israel National News he felt a "split second jolt" and "heard something that did not sound like the thunder" he had heard earlier in the evening.
Thus far, there are no reports of injuries or damages.
Tuesday's earthquake follows the devastating earthquake which hit Turkey and Syria overnight Sunday and which was also felt in Israel. That earthquake has been followed by hundreds of aftershocks, including one early Tuesday morning which measured 5.6 on the Richter scale.
On Tuesday, officials from the World Health Organization warned that the death toll in Syria and Turkey following the earthquake could top 20,000.
An IDF Medical Corps, Ministry of Defense and Ministry of Health medical aid delegation will depart Israel on Wednesday and head to southern Turkey.
The delegation will establish a field hospital, assist the Home Front Command in locating missing persons and extracting them from the ruins, and focus on providing medical treatment in field hospitals using advanced Israeli medical equipment.
The 230-member delegation will include officers and soldiers from the IDF Medical Corps and search and rescue personnel from the Home Front Command, as well as doctors, nurses and paramedics from the Ministry of Health. The National Steering Committee for Earthquake Preparedness in the Israel Ministry of Defense will assist the delegation.
The delegation is scheduled to receive vaccinations and will operate in accordance with the guidelines of the Ministry of Health to prevent the spread of viruses in foreign countries in order to maintain the health of the participants.
The first humanitarian aid delegation of the Israel Defense Forces, Ministry of Foreign Affairs and Ministry of Defense landed on Tuesday morning in an airport in Adana, Turkey.
The delegation is being led by the Commander of the National Rescue Unit in the Home Front Command, COL (res.) Golan Vach, and includes 150 active-duty and reservist personnel. Israel Fire and Rescue Authority personnel will also join the delegation.