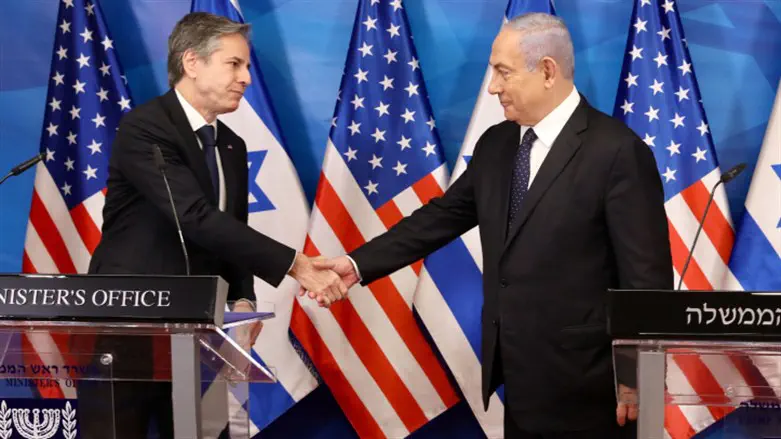 Antony Blinken meets Netanyahu
Marc Israel Sellem/POOL
As a journalist I, David Bedein, posed three questions to US Secretary of State Anthony Blinken, during the official Blinken visit to Israel.
Question 1. Will the US demand that the PA repeal the PA "pay to slay" law, enacted by the PA in 2015, which provides an automatic salary for life for anyone who murders a Jew, or a salary for life to the family of the killer, if the attacker is killed during the act of murder?
See details of the allocations here.
Question 2. Since the PA has adopted a school curriculum for PA and UNRWA schools which rejects any recognition of Israel and indoctrinations the next generation to oppose any two-state solution, will the US demand that PA schools recognize Israel?
For an opportunity to see what the school texts contain, see here.
UNRWA Textbooks
Miri Tzachi
Question 3. In any further US aid to UNRWA, will the US demand that UNRWA call an end to any further UNRWA incitement against Israel?
After all, one of the accomplishments of the Biden administration was the US-UNRWA accord, which provided anti-incitement guidelines in conduct of US policy towards UNRWA.
The framework for US-UNRWA cooperation is here.
The text of their refusal to change the inciteful curriculum is here.
And:
This is the US response to Bedein's questions placed to Blinken, attributable to an official US embassy source:
"The United States has zero tolerance for incitement to violence. The President and Secretary Blinken are both on the record condemning any and all unilateral actions that increase tensions and undermine the viability of a two-state solution. That certainly includes payments related to acts of terrorism committed against Israelis."
In other words, a blinded Blinken blinked, and went on his way, offering slogans and no policy.