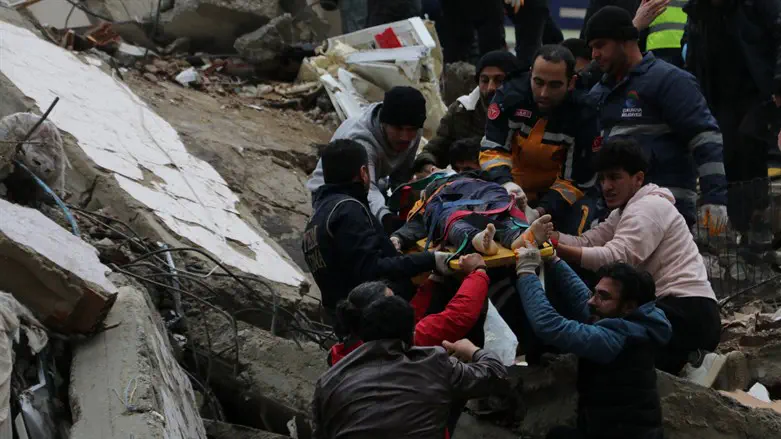 Rescuers carry out victim from ruins after earthquake in Adana, Turkey
Reuters
Now over 24 hours since the first of two devastating earthquakes that hit Turkey and Syria, thousands are still trapped under rubble and the death toll is rising. Survivors describe how they can hear and sometimes even see people trapped beneath collapsed buildings but without sufficient rescue teams to cover all affected areas, people wait hours to be extracted and meanwhile, many will succumb.
Nissim Bar Shalom, a mashgiach kashrut (kosher food supervisor) who was in the disaster area in relation to his work when the earthquakes struck, described his experiences.
"It's a total miracle that I survived," he told Radio 103FM. "I was in Gaziantep, the epicenter of both quakes, and I'm used to minor tremors, being that I live in Turkey; they're nothing new for me. But yesterday it was something else entirely. I was in total shock - I didn't believe something like this could happen.
"I was asleep when the first earthquake hit and I woke up and could feel my bed shaking. I looked out the window and everything outside was shaking. The closet doors were opening and shutting, plaster was falling from the ceiling, things were falling out of closets and off shelves - and the screams, terrible screams from all over the building."
"Then I heard a loudspeaker telling people to get outside, and I could see people starting to leave, still trying to figure out what was going on. Since I'm used to smaller earthquakes, I knew that the initial shock could be followed by others, less severe ones. So the second earthquake caught me exactly where I was for the first one, in my hotel room on the thirteenth floor, where it's the scariest."
Bar Shalom stressed the utter devastation in the wake of the two earthquakes. "Everything is in ruins. Everything was destroyed. The factory where I work, thank G-d, is still standing, but there were no workers there at the time. One of them is now searching for his sister and another one has buried his brother and a third has been left without a home. There's no gasoline, no stores, no transportation. It's so painful to see what's going on here because I love the Turkish people. There's just no way of accessing the disaster area. The roads are gone, everything is simply utter devastation."