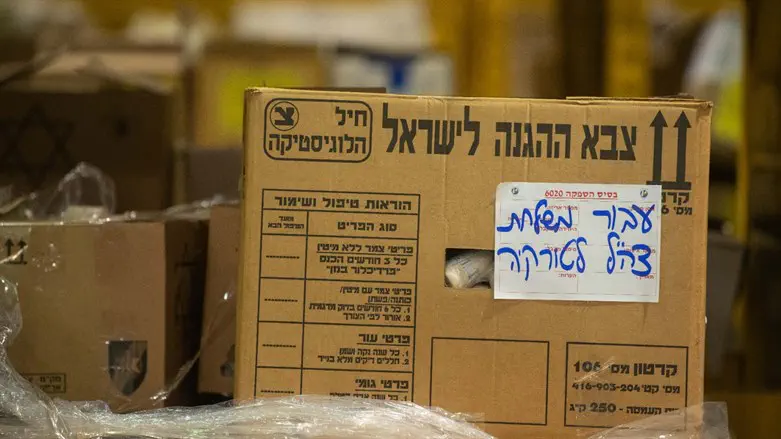 The delegation includes 150 active-duty and reservist personnel
IDF Spokesperson's Unit
The joint "Olive Branches" humanitarian aid delegation of the Israel Defense Forces, Ministry of Foreign Affairs and Ministry of Defense landed on Tuesday morning in an airport in Adana, Turkey, near the area which was struck by a devastating earthquake on Monday.
After initial assessments, the rescue teams will make their way to the disaster-stricken areas, where there they will begin the rescue operations.
During the night, Foreign Ministry personnel worked with the Turkish authorities to allow the reception of the Israeli delegation and are preparing to receive a field hospital that is expected to arrive later.
Israel's Deputy Ambassador to Turkey, Nadav Markman, said, "It was difficult to obtain the necessary approvals for the landing of the troops, especially in light of the time frame, and during the night we worked vigorously with the Turkish Foreign Ministry, the army, as well as the aviation authorities. I am excited and proud to see the IDF planes landing at the airport, and leading the rescue forces on their way to provide aid to the affected residents."
The delegation is being led by the Commander of the National Rescue Unit in the Home Front Command, COL (res.) Golan Vach, and includes 150 active-duty and reservist personnel. Israel Fire and Rescue Authority personnel will also join the delegation.
The Commander of the Search and Rescue Brigade, COL Elad Edri, is responsible for search and rescue and logistical preparations. Furthermore, the IDF Medical Corps is making preparations to send out a delegation to assemble a field hospital if it is deemed necessary and as instructed by the Minister of Defense.
Meanwhile, the death toll in Turkey and Syria as a result of Monday's earthquake rose to 4,365 overnight. The Turkey Disaster and Management Authority updated that in Turkey alone, the death toll stands at 2,921 and the number of injured so far is 15,834.
Shortly before 6:00 a.m. Tuesday morning, another earthquake with a magnitude of 5.6 was felt in Turkey.