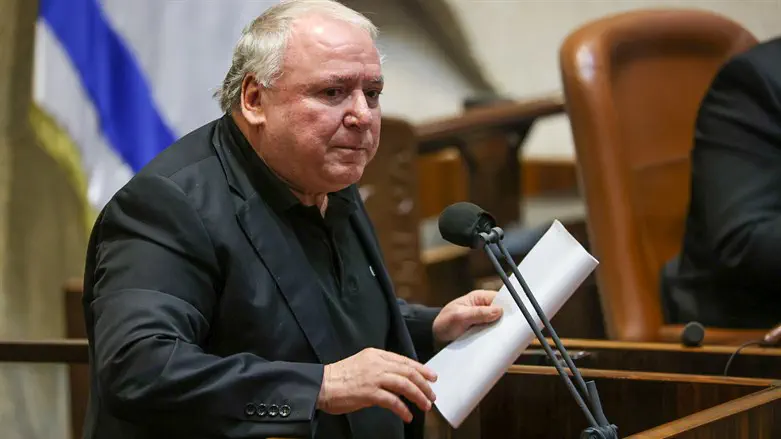 Dudi Amsalem
Noam Moskowitz, Knesset spokesperson
After his publicized disagreement with Prime Minister Benjamin Netanyahu, MK Dudi Amsalem (Likud) may join the government soon.
Ynet reported on Monday that Netanyahu is expected to offer Amsalem to be appointed to three positions – a Minister in the Ministry of Justice, Minister for Liaison between the Government and the Knesset, and Minister of Regional Cooperation.
Amsalem hinted at this in a photo he posted on his Twitter account, in which he appeared alongside Rabbi Yaakov Israel Ifargan, who is nicknamed "the X-ray", alongside which he wrote, "Before any important decision, there is nothing like receiving a warm word and good advice."
On Monday evening, Netanyahu, Amsalem and Justice Minister Yariv Levin met at the Prime Minister's office in the Knesset.
Last month, Amsalem launched an unprecedented attack on the Prime Minister after being left out of the government, in which he claimed that Netanyahu was discriminating against him due to the fact that he's of Mizrahi origin.
"No one will ever humiliate David Amsalem. They are not humiliating just Amsalem - but all the Amsalems and Bitans," he said.
"Not here, not in our party of which we make up 70%. I am in my home, Dudi Amsalem, I grew up in the Likud, I am the most veteran among the members of the faction. I have been in the Likud as a child since the age of 15 - I am not second tier," he charged
Netanyahu's office rejected Amsalem's claims.
"The claim that there is sectarian preference in Likud is ridiculous and untrue. It is enough to see the list of senior officials in the Likud which includes Amir Ohana - Speaker of the Knesset, Eli Cohen - Minister of Foreign Affairs, Miri Regev - Minister of Transportation, David Bitan - Chairman of the Economic Committee and Ministers Miki Zohar, Idit Silman, Gila Gamliel, Amichai Chikli, Galit Distel and Shlomo Karhi - to refute this ridiculous claim," Netanyahu's office said.
The statement also noted that Netanyahu values and cherishes MK Amsalem and therefore offered him any executive position in the government that he would like. "It is unfortunate that he rejected this proposal time and time again. Prime Minister Netanyahu is interested in integrating MK Amsalem into the government and hopes that a way will be found to do so."