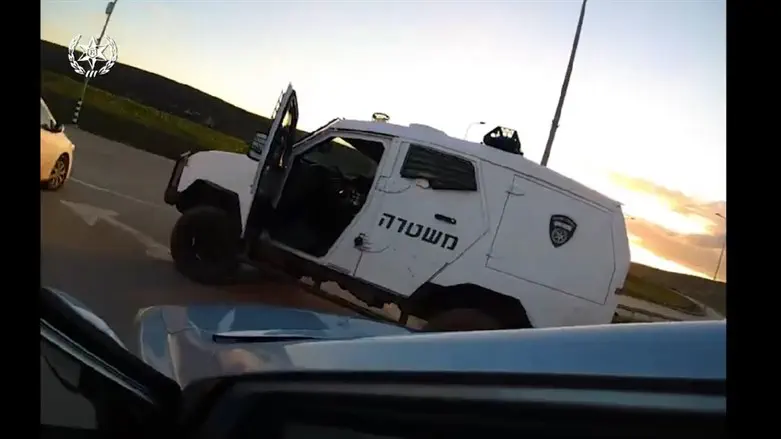 Police arrest of the suspect
Police Spokesperson
The woman who was raped by a Bedouin intruder in her home on Thursday in Gedera is speaking out about the incident for the first time this evening.
In a message to a group chat with her neighbors, the 30-year-old victim wrote: "I just got my phone back from the police. I just wanted to thank each and every one of you, thank you from the depths of my heart."
In the message, which was published on Walla, the victim told her neighbors, "Thanks to you, it made it to the media, and he was caught. Thanks to you, I have the strength to deal with this incident, you're the best."

The victim moved to the building two months ago, and following the incident, she traveled to her parents to recover.
The Rishon Lezion Magistrate Court extended the detention on Sunday of a 22-year-old resident of an unrecognized Bedouin settlement in the Negev who allegedly raped a woman in her Gedera home last Thursday by nine days.
Upon entering the courtroom, the suspect declared, "It wasn't me." Judge Gil Gabai allowed the publication of the suspect's name, but the defense advocate asked to delay the decision, and the suspect's name will be withheld until tomorrow to allow the attorney time to file an appeal.
Judge Gabai stated: "I found a highly reasonable suspicion that the suspect committed the acts he is accused of. They reach a high level of danger. He entered in the middle of the night, while the woman was at home with her children, and committed severe sex crimes while threatening to murder her. The plaintiff's testimony paints a very gruesome picture of what she experienced and the damage done to her.
A representative of the police investigation unit stated: "The intruder entered the home and brutally attacked and raped the victim in front of her children while they cried. He continued and told them, 'If you continue to scream, I'll kill you' while brandishing a knife. He tied her arms, legs, and eyes at one point.
Today, along with reasonable suspicion, we have alleged evidence and a lot of work to do. We got to the suspect using security cameras and forensic evidence." The police representative added, "this case harmed Gadera's feeling of security."
The suspect's attorney, Avi Cohen, stated, "He has no connection to the incident and denies any connection with the apartment (where the rape was committed).
Police arrested a suspect in the rape, a 22-year-old Bedouin man, on Saturday. An additional six suspects from Bedioun villages in the Negev were also arrested.
According to police, the evidence found at the scene pointed to one specific family that seemingly works in the city. Seven suspects were arrested both in Israeli and Palestinian authority territory.