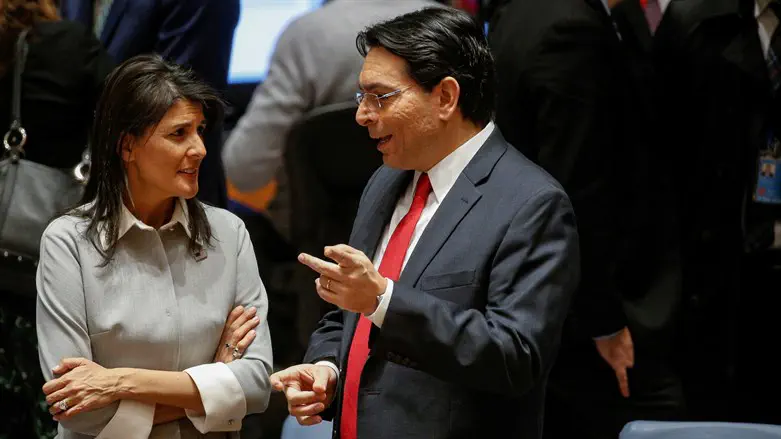 Nikki Haley and Danny Danon
Reuters
We spoke with the former Israeli ambassador to the United Nations, MK Danny Danon, about his former American counterpart Nikki Haley, who helped him promote several pro-Israel steps, and her announcement that she will run for the Republican presidential candidacy.
"Nikki Haley is a good friend of the Jewish people and the state of Israel and a personal friend of mine and my family. She proved her allegiance to Israel. She bravely stood up during difficult moments in the UN, she did not blink or stutter. She fully supported Israel, and we appreciate what she did. I'm sure that in any position she holds, she will be an ambassador for the state of Israel. She loves the state of Israel and is unafraid to defend us on every stage and in every place," says Danon.
Regarding the challenges that Haley faced, which pertained to Israel, Danon says that representatives of superpowers generally prefer a way out of getting involved in conflicts so as not to be harmed. Despite this, "With Ambassador Haley, when I would come with a matter that concerns Israel, she didn't even call to find out what the State Department's and President's stance is but would tell me that she's with us, we fight with you. It happened all the time, and therefore Jewish communities around the world respected her. It was supported without questions and without compromise."
Will her pro-Israel stance help her in American politics, or will some people see it as a reason to attack her? "During the Republican primaries, it will help her. There is a substantial Evangelist population that supports Israel, and almost all of the candidates show off their connection with Israel, and she will utilize what she did in the UN and her status in Israel. If she ran in Israel, she would win any position," Danon states. Regarding the general election, he says that it's too early to tell.
All of the Republican candidates are good friends of Israel, Danon points out and mentions former Vice President Mike Pence and Florida Governor DeSantis, "They are all good friends of Israel, and this is an ideal situation for us. Israel will play a substantial part in their campaign." Danon is careful not to say who is better between them. "My policy states that we have enough politicians in Jerusalem, and we don't deal with other people's politics, but if you ask me about a specific candidate and their connection to Israel, we have to tell the truth, but I won't take a position or support a specific candidate."
Danon is not interested in discussing Trump, who called Haley's run a knife in the back after she announced that she wouldn't do so as long as he's running. "We don't get involved in these arguments. We only talk about the positive things that people do for Israel. We are grateful and will be careful not to take sides in those fights."