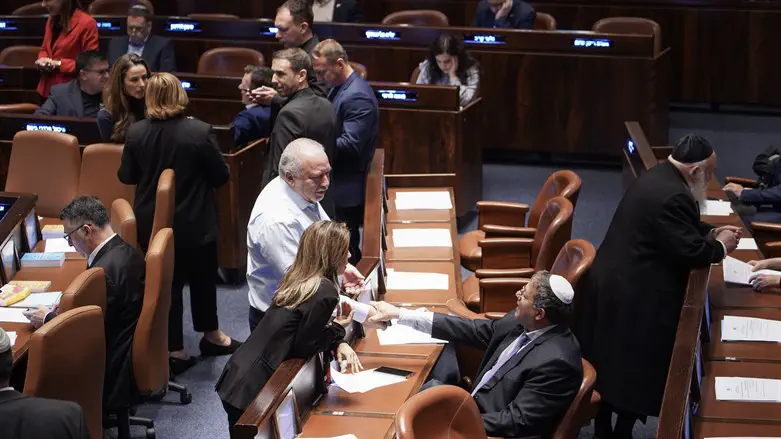 Knesset plenum
Danny Shem Tov, Knesset spokesperson
A new poll published by Channel 12 News on Friday finds that, if Knesset elections were to be held today, the Labor Party would be wiped out and not pass the electoral threshold, while Meretz, which did not pass the threshold in the last election, would pass it this time.
The poll finds that there is not much of a difference in the division of blocs should an election be held today.
The Likud remains the largest party in the Knesset with 30 seats in the new poll, two fewer than it currently holds, and is followed by Yesh Atid with 24 and Benny Gantz's National Unity Party, which gains the two seats lost by Likud and wins 14.
The Religious Zionist/Otzma Yehudit ticket maintains its power with 14 seats, as does Shas which wins 11 seats once again.
Also maintaining their power are the haredi United Torah Judaism Party with 7 seats, Avigdor Liberman's Yisrael Beytenu with 6 seats and the Arab parties Hadash-Ta'al and Ra'am, each of which win 5 seats in this poll.
The Labor Party fails to pass the electoral threshold, but its 4 seats today go to Meretz, which failed to pass the threshold in the last election. The Balad Party once again fails to pass the threshold.
The pro-Netanyahu bloc has 62 seats in this poll, the anti-Netanyahu bloc has 53, with Hadash-Ta'al and its 5 seats making up the remaining seats.
(Israel National News' North American desk is keeping you updated until the start of Shabbat in New York. The time posted automatically on all Israel National News articles, however, is Israeli time.)