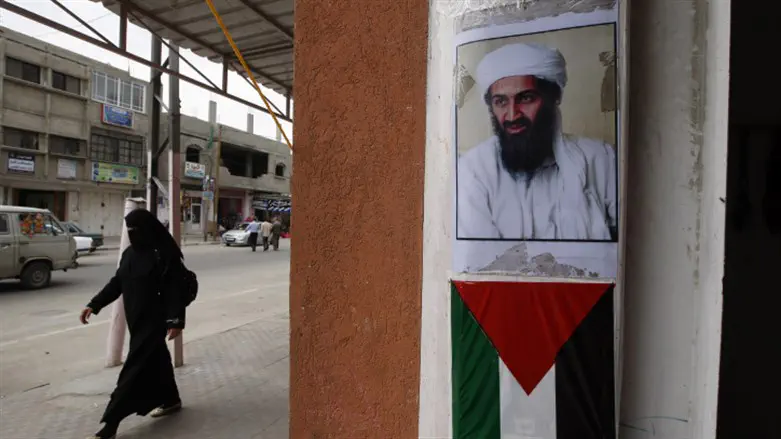 Former Al Qaeda leader Osama bin Laden
Flash 90
A former aide to President Bill Clinton revealed in a new book that the Monica Lewinsky scandal was such a distraction during the Clinton presidency that it caused the White House to lose track of the whereabouts of terrorist mastermind Osama bin Laden in the years leading up to the 9/11 attacks.
Political pollster Doug Schoen's memoir details the years in which he worked as a White House adviser and senior campaign aide to then-President Clinton during his 1996 re-election campaign.
The book, "POWER: THE 50 TRUTHS, The Definitive Insider's Guide," claims that the administration allowed bin Laden to slip out of their grasp because the Lewinsky scandal was so all-encompassing, according to the New York Post.
Schoen spent five decades in politics working for both parties, including most recently for Donald Trump before he was elected, and also served three Israeli prime ministers and New York City mayors Mike Bloomberg and Ed Koch.
In the memoir, he describes Clinton as the "Elvis Presley of American Politics," saying he was the "the most accomplished political operative I have ever met" who was a natural at winning over crowds while campaigning.
However, he notes that he was shocked by Clinton's personal life and was disturbed by how he let it interfere with his professional responsibilities as president, including that he would have an affair with White House intern Lewinsky. The scandal bogged down his second term in office, leading to a House impeachment trial and a permanent black cloud over his legacy.
"I watched this unraveling happen close up, in painful slow motion, from inside the White House," Schoen writes in the book. "I watched the White House surreptitiously mount a whispering campaign to discredit Lewinsky."
He goes on to recall that "there was also, I believe, a serious impact on national security. On Aug. 20, 1998, Clinton ordered cruise missile strikes against al Qaeda in Sudan and Afghanistan in retaliation for the bombing of the US embassies in Kenya and Tanzania. The strikes, named Operation Infinite Reach, missed Osama bin Laden… Beset by the Lewinsky affair, the Clinton Administration lost focus and leverage to pursue him aggressively and bin Laden struck again on 9/11."
He also explains that the Lewinsky affair and other sex scandals Clinton was embroiled in played a part in Hillary Clinton losing the election to Donald Trump in 2016.
"By the time of her presidential bid, after several sexual scandals, he hung like a millstone around her neck. When she lost, I'm told by people close to them, Hillary and Bill were for a time not even on speaking terms. She seemed to blame him for her narrow loss," Schoen writes. "What Bill considered innocent dalliances ended up hurting not just himself but also Hillary. Harming your wife also counts as self-harm."
He adds in the memoir that "to this day [Clinton] appears befuddled by the Monica fuss. When she co-produced a TV miniseries about the saga in 2021, the fact that he was unable to offer her the apology she is owed left me disappointed and saddened."
(Israel National News' North American desk is keeping you updated until the start of Shabbat in New York. The time posted automatically on all Israel National News articles, however, is Israeli time.)