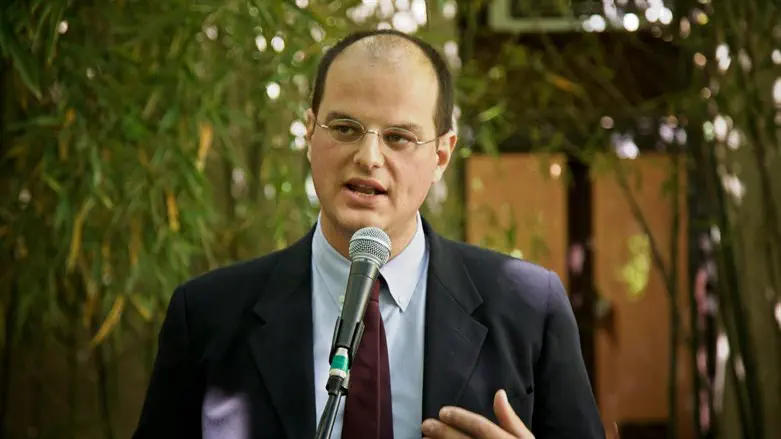 Giulio Meotti
צילום: עצמי
"With the number of Jews plummeting from 3,000 to 600 in just a few years, the Swedish city of Malmö is the barometer of the slow demise of European Jews after the Holocaust," wrote the late great Holocaust historian Robert Wistrich.
He continued: "It is not for nothing that former European Commissioner Frits Bolkestein advised the Jewish community of Holland to emigrate to avoid harassment by young Muslim fanatics. The prospects in Belgium and Norway are no better. The verdict is on the wall, for anyone with eyes to see. The reward for Europe's regrettable and cowardly appeasement of Islamism will, however, be short-lived. Because bowing down and willful blindness come at a high cost in the long run. Muslims will eventually take their revenge on a European society that the most fanatical among them already loathe."
In the last 50 years the Jewish population in Europe has decreased by 60 percent and a similar decline is expected in the next 30 years, explained Eldad Beck in a dramatic article in Israel's largest newspaper, Israel Hayom, while the Israeli government reveals that 52,000 European Holocaust survivors have gone to live in Israel in the last thirty years.
Wistrich, who headed the International Center for Anti-Semitism Studies at the Hebrew University of Jerusalem, said European Jewry still had 10 to 20 years to live. "It's over," Wistrich said. "It's a slow death."
In France there are cities, such as Grenoble, from which half of the Jewish community fled, while in Nice, which was home to the fourth largest Jewish community, Jews dropped from 20,000 to 5,000. In Lyon, as the chief rabbi recently said, "only the Jews remain who are too old or too poor to move". In Toulouse, a large part of the Jewish community arrived after the Islamic ethno-religious cleansing of North Africa in the 1960s and 1970s. What they fled followed them into the Midi-Pyrenees and now it's time to leave again, as elsewhere in Europe. Hundreds of Jewish families left Toulouse and the president of the Jewish community, Arié Bensemhoun, advised young people to leave the city. Toulouse had up to 20,000 Jewish people. Today there are 10,000 left.
Over the past ten years, 60,000 of its 350,000 Jews have left Ile-de-France. "In France, between 2000 and 2017, 55,049 Jews made aliyah to Israel, more than between 1970 and 1999, a period during which 48,097 Jews left" recounts Mark Knobel in the magazine La règle du jeu. Since 1972, 106,000 French Jews have left for Israel. Before 2012, 500 Jews left France every year. In 2021, 3,500 French Jews emigrated to Israel (not counting those who left for other countries). A sharp increase from 2,220 departures in 2019 and 2020. More than 1,900 left for Israel in 2012, another 3,120 in 2013. In 2104, 7,200 left France and 7,500 in 2015.
In 2000, France had 500,000 Jews. Today they are 400,000. At an average of 3,500 Jews a year, another 100,000 Jews will disappear in a generation. According to a survey, 40 percent of Jews still living in France want to leave. "In a few decades there will be no Jews in France," said Richard Abitbol, president of the Confederation of French Jews and Friends of Israel.
"I don't want to live in a country whose chancellor brings in millions of anti-Semitic Muslims who attack Jews and Jewish institutions in Germany," wrote the chairman of the Jewish community in the German state of Brandenburg, Semen Gorelick. "You can't live in a country where you can't wear a kippah on the street". Most Jews in Germany today are Ukrainian, Russian or Israelis looking for work. And Jews are hiding in Bonn, Potsdam, Bochum and the rest of the country.
"Norway risks becoming a country without a Jewish population," says an editorial in Aftenposten. According to the newspaper, 20 percent of the two largest communities (Oslo and Trondheim) have left. "Norway could be the first country in Europe to become jüdenfrei," wrote journalist Julie Bindel. The synagogues of Oslo and Trondheim are the most protected buildings in all of Norway.
Denmark's Jewish community has lost 25 percent of members in the past 15 years, chairman Finn Schwarz told the Jyllands-Posten newspaper.
Joël Rubinfeld, president of the Ligue belge contre l'antisémitisme, tells Paris Match that "there is a good chance, in twenty years, of ending up with a jüdenrein Belgium".
7,000 Dutch Jews have already left for Israel since 1948. Chief Rabbi Binyomin Jacobs revealed that he and his wife would leave if not for their responsibility for those still there. "I'm like the captain on duty on a sinking ship". Benzion Evers, son of the rabbi of Amsterdam, has already left. Five of his brothers and sisters have already taken the same step.
Samuel Hayek, chairman of the Jewish National Fund, shocked England: "Jews have no future in the UK," said Hayek, who has lived in the UK for 40 years and is one of the country's most famous philanthropists. Britain's Muslim population could triple in the next 20 years and reach 13 million by 2050. "I'm not against any minority or against Muslims in the UK or in Europe, but against anyone who spreads hatred," Hayek said.
Natan Sharanksy, the former Soviet refusnik, said: "We are witnessing the beginning of the end of Jewish history in Europe."
In "Submission" by Michel Houellebecq, we meet the character of Myriam, a university student. As an Islamist political party rises to power in France, a distraught Myriam says her parents have sold their house in Paris and are leaving for Tel Aviv. "They feel that something bad is coming." Myriam is going with them during the summer holidays but she will be back. "I do not talk a word of Hebrew," he says. "France is my home." But she will never come back.
European multiculturalists who don't care what happens to Jews in Islamized Europe will soon discover that it affects them too. What will Europe be like? "The Jews will have gone and the Muslims will have arrived" Dutch novelist Leon de Winter told me. "When Israel celebrates one hundred years in 2048, the last Jew will leave Europe. Everyone will be free to judge whether it will have been a loss or a gain."