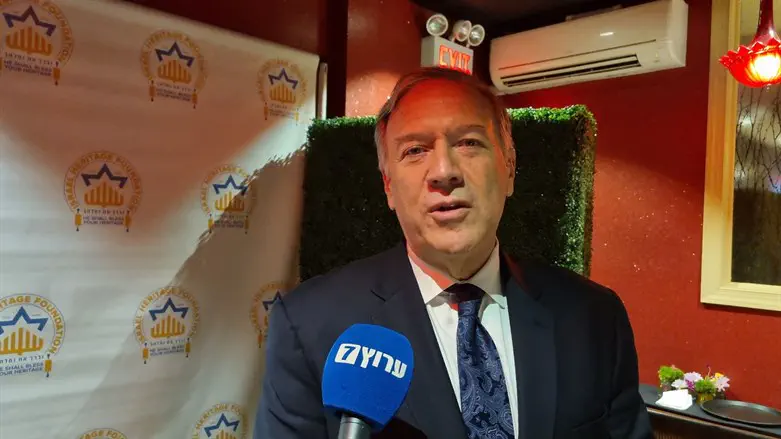 Mike Pompeo
Israel National News
Mike Pompeo opted to hold a book signing recently with the Jewish Orthodox Israeli Heritage Foundation in the presence of MK Simcha Rothman.
As I went up to get my signed book from Mike Pompeo, I was greeted by a man of warmth, humility and full of good spirit. This man, the only Secretary of State to visit Judea and Samaria, would later speak that night about how one of his greatest thrills as Secretary of State was strolling in Hebron with Netanyahu to visit holy sites.
Thereafter, I had a conversation with MK Simcha Rothman who, like Pompeo, is steeped in love for Judea-Samaria as he lives and travels to work every day from his home there. I expressed my dismay to him over the US offering any kind of critique over judicial reform, for the US would never allow an overreaching court like the one in Israel.
Exec. Dir Israel Heritage Foundation Rabbi Duvid Katz, MK Simcha Rothman, Steven Genack (r.tol.)
Genack
On top of that, I later read how the Israeli Supreme Court sent its own member to instruct the Knesset on how to interpret laws to reform the court, how the attorney general tried to prevent the prime minister from being involved in the reform, and how a well-heeled leftist lawyer called for taking up arms against passing the reform.
This mockery would never pass muster anywhere, but the leftist court has become untouchable, a great danger to any nation seeking to run on democratic principles.
Rothman made it clear to me, that in about two months' time a serious bill to comprehensively reform the Israeli Supreme Court will be presented. I expressed my distress about Deri which Rothman was very sympathetic to, and later Rabbi Katz, the Executive Director of the Israeli Heritage Foundation comforted me by saying you can't get everything, but on the whole, the Israeli government has great potential.
It was touching later to hear Rothman quote the verse form Isaiah (1:27), "Zion will be redeemed with justice." He emphasized that true justice needs to come to Israel for it to move forward.
In Pompeo's speech, you felt you were hearing from a seasoned leader who was guided by principles of faith, courage, honesty and a strength of spirit that wouldn't compromise on that which mattered. His book, Never Give an Inch, spoke to this theme that to what Pompeo views as critical, he won't compromise on.
Some telling examples included the Soleimani hit in Iran. He made it clear to Trump that if Iran wasn't going to see serious deterrence at that specific time, then American soldiers could be harmed. Not only did that act deter Iran but it put all the totalitarian governments like Russia, China, and North Korea on watch.
When it comes to Israel, Pompeo said that "no real estate from Israel should ever be given away, and that you can't give an inch when it comes to Jerusalem." He expressed that most American politicians don't believe Judea and Samaria to be occupied territory. He calls occupied a false term. He joked about the "Pompeo" wine that was made in his honor in Israel.
He told over how it was communicated to Europe that they should start working on energy independence in case Russia any time in the future uses oil to bribe them. This turned out to be the case at the onset of the Russian-Ukrainian conflict where Russia cut oil supplies.
He emphasized a very important point about American education. He said it's rotting from within. And he said if you lose your country from within, you no longer have a country left to defend. Teacher unions are destroying the education system and taking control from the parents. Curricula are being rewritten and the History of the US is being altered. To him this is a matter where you can't give an inch.
One of the last questions he fielded was about the classified documents that are continuing to be found. It's quite ironic that President Biden, Former President Trump and a possible Republican challenger, former Vice President Pence are all mired in this issue. Pompeo, who was a member of the House Intelligence Committee in Congress, Head of the CIA and Secretary of State never had one issue with documents, and he was in charge of thousands upon thousands. Based on his experience and what he is seeing, he recently tweeted that Schiff should be nowhere near intelligence. He answered the question and said these documents should be protected, and they should not be found. It seems he has emerged unscathed in this area.
Many at the event hope for a presidential run. Pompeo said he will think about it over the next couple of months.
I would say, that in big times you want someone with the right temperament, who is a family man and super cordial. With Pompeo, what you see is what you get. Whether you meet him in person or hear him on the radio, you will see a rational man with deep faith in Judeo-Christian principles and a deep love of his country.
Pompeo book launch
Israel Heritage Foundation
I believe that a fascinating and glorious story that transpired that night was a connection between a Secretary of State that won't budge on things that matter, including Judea and Samaria, and a principled MK, Simcha Rothman, who is not willing to budge from taking on an irregular and frightening dictatorial Israeli Supreme Court. Should Pompeo be the next president, he will have a good friend in Rothman who both feel that when it matters no one "must give an inch."Right to left: Mike Pompeo; Israeli Heritage Foundation Executive Vice President Dr. Joseph Frager; Executive Director of Israeli Heritage Foundation Rabbi Duvid Katz, and Steven Genack at Book Signing Event for Mike Pompeo's Book, Never Give an Inch. Photo courtesy of Israel Heritage Foundation.
Steven Genack is an attorney. His great uncle, Eliyahu-Moshe Ganchovsky, was a member in the 1st and 2nd Israeli Knesset.