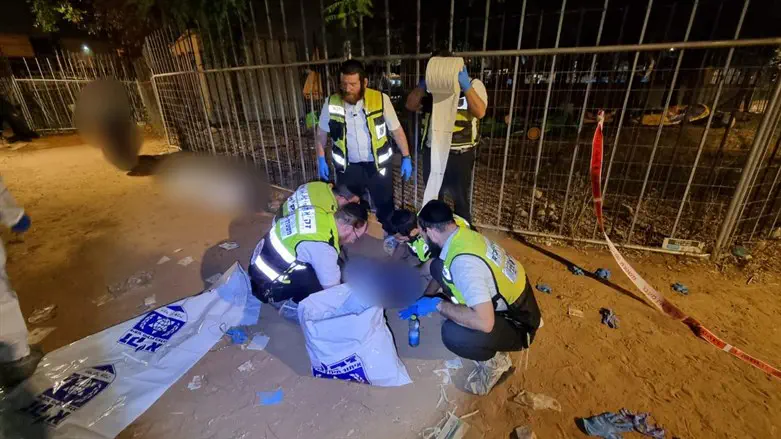 Scene of the attack
Elan Malka
Nine months after the horrific terrorist attack in Elad, a fourth victim has lost his life due to the injuries he sustained. Shimon Ma'atuf was 75 years old, and he leaves behind a wife, six children, and 13 grandchildren.
Ma'atuf was seriously injured in the attack, which was perpetrated with an ax. Over the last few months, his condition deteriorated and he was transferred to Ichilov Hospital. On Thursday morning, he passed away.
Ma'atuf had been serving as a security guard at the entrance to the park not far from where the attack occurred. When he heard screams, he left his post and it was then that the terrorists spotted him and began to attack him viciously with axes, causing him severe head injuries.
The other three victims who died in the attack are Yonatan Havakuk, a father of five, Boaz Gol, a resident of Elad in his 40s, and also a father of five, and Oren Ben Yiftach, a father of six, Hy"d.
The terrorists who perpetrated the attack were arrested after a three-day manhunt; they were found hiding in bushes in a nearby quarry. Assad Yussef Assad Al-Rafa'i, 19, and Sabhi Imad Sabhi Abu Shakir, 20, both of Jenin, have been in custody since and were recently indicted.