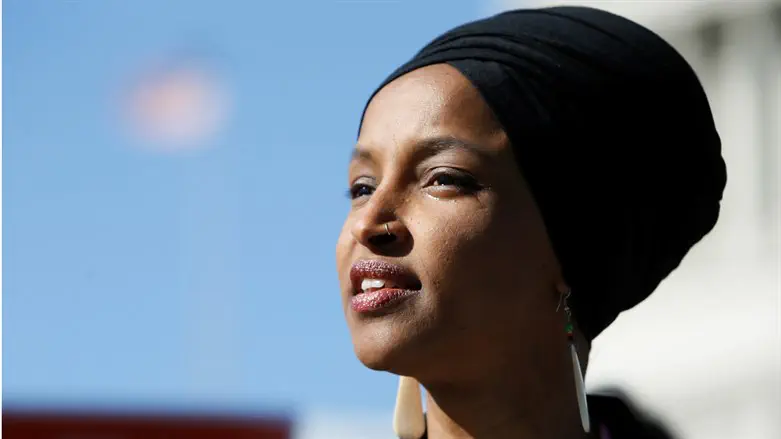 Ilhan Omar
Reuters
House Speaker Kevin McCarthy (R-CA) announced on Wednesday that the House will vote on a resolution to remove Rep. Ilhan Omar (D-MN) from the House Foreign Affairs Committee on Thursday, one day after a second Republican holdout — Rep. Ken Buck (Colo.) — revealed that he would back her ouster, according to The Hill.
McCarthy vowed to block Omar from sitting on the House Foreign Affairs Committee, but his bid to do so hit a snag last week after several Republicans indicated they would not back the measure.
On Tuesday, Rep. Victoria Spartz (R-IN), who had been one of three Republicans planning to vote no, said she would vote in favor.
McCarthy's announcement of a Thursday vote came shortly after the House approved, by unanimous consent, Democratic assignments for the Foreign Affairs Committee — officially installing Omar on the panel and setting up a floor battle with McCarthy and House GOP leadership.
"Oh, so now we can vote her off," McCarthy told reporters after learning that the House approved the assignments. Thursday's schedule released by House Majority Leader Steve Scalise (R-LA) confirmed that the vote will take place.
"We'll have enough votes even though there's some members who are out, unfortunately, because of family," McCarthy added.
McCarthy is seeking to block Omar from the committee due to her criticisms of Israel and its government.
Omar came under fire in 2019 after she suggested on Twitter that Republicans were attacking her at the behest of the pro-Israel lobby AIPAC.
She subsequently issued a half-hearted apology before ultimately deleting the controversial tweets.
In another incident, Omar shared to Twitter a video of a conversation she had with US Secretary of State Antony Blinken, in which she appeared to compare Israel and the United States to Hamas and the Taliban.
After 12 of the 25 Jewish Democrats in the US House of Representatives published a statement criticizing Omar's assertion, she fired back at her Jewish colleagues and said, "It's shameful for colleagues who call me when they need my support to now put out a statement asking for 'clarification' and not just call."
She later issued another clarification and claimed she had been misunderstood.
Asked earlier this week about her past antisemitic statements, Omar told CNN that she was not aware that her comments could be viewed as antisemitic.
She accused Republicans of Islamophobia, claiming, "It is politically motivated, and in some cases motivated by the fact that many of these members don't believe a Muslim refugee, an African, should even be in Congress, let alone have the opportunity to serve on the Foreign Affairs Committee."