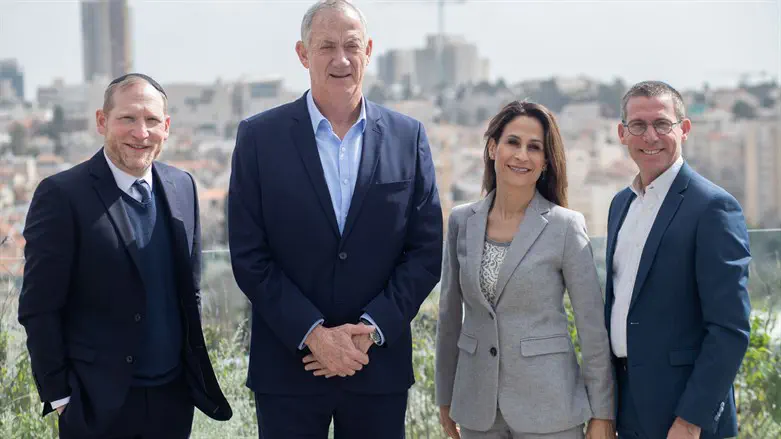 MK Benny Gantz and MK Orit Farakash-Hacohen meet with senior Nefesh B'Nefesh lea
Naga Malasa
Former Defense Minister and National Unity party leader MK Benny Gantz visited the Nefesh B'Nefesh Aliyah campus in Jerusalem on Wednesday with fellow party member MK Orit Farkash-Hacohen, where they were introduced to the organization's vast activities and initiatives surrounding Aliyah (immigration to Israel) from North America.
MK Gantz and MK Farkash-Hacohen met with Nefesh B'Nefesh leadership including Co-founder and Executive Director Rabbi Yehoshua Fass and Executive Vice President Zev Gershinsky, who gave them a tour of the new campus and an overview of the organization's various Aliyah divisions as well as its government advocacy efforts and initiatives.
Additionally, the two met with Noya Govrin, director of the FIDF - Nefesh B'Nefesh Lone Soldiers Program, which assists some 3,500 lone soldiers currently serving in the Israel Defense Forces (IDF). They also heard from dozens of lone soldiers who arrived at the campus for a workshop for soldiers who don't have any immediate family in the country.
MK Gantz thanked the soldiers for their courageous service and noted that throughout his tenure as Chief of Staff and Minister of Defense he always had a deep appreciation for lone soldiers and worked to find ways to appropriately integrate them into the IDF.
"It was a privilege to visit the Nefesh B'Nefesh campus in Jerusalem today and see their incredible vision become a reality," said Chairman of the National Unity Party, MK Benny Gantz. "This is an organization comprised of dedicated staff who are working 'round the clock to facilitate the immigration of Jews to Israel while ensuring as soft a landing as possible upon their arrival. Assisting Jews to Israel is our biggest national priority and we must continue to do so while also strengthening our important connection with Diaspora Jewry."
Co-Founder & Executive Director of Nefesh B'Nefesh, Rabbi Yehoshua Fass added, "We were honored to host National Unity party leader, MK Benny Gantz as well as MK Orit Farkash-Hacohen at our Aliyah campus today. Their visit highlights the broad base support that our organization has developed over the years and will help further elevate the significance of Aliyah within their various public activities."
Nefesh B'Nefesh, which was founded in 2002 by Tony Gelbart and Rabbi Yehoshua Fass, works in cooperation with Israel's Ministry of Aliyah and Integration, the Jewish Agency for Israel, Keren Kayemeth LeIsrael, and JNF-USA, strives to facilitate and celebrate Aliyah, advocate for Olim, and education towards a stronger connection to Israel. By minimizing financial, professional, logistical, and social obstacles, Olim are able to actualize their dreams and continue building a stronger Israel. The support and comprehensive social services provided by Nefesh B'Nefesh to its 75,000 new immigrants have ensured that 90% have remained in Israel.