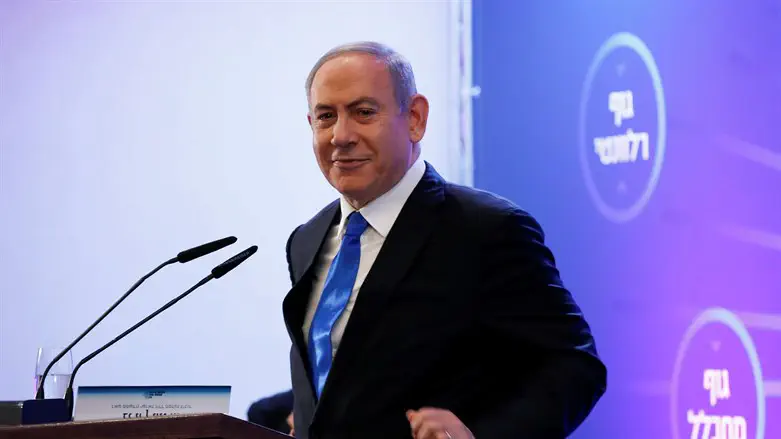 Benjamin Netanyahu
Reuters
Prime Minister Benjamin Netanyahu told CNN in an interview on Tuesday that Israel has acted against Iranian threats but would not go into details.
In the interview with Jake Tapper, Netanyahu explained his position on Iran and said, "If you have rogue regimes that are (intending to get) nuclear weapons, you can sign 100 agreements with them, it doesn't help."
"I think the only way that you can stop or abstain from getting nuclear weapons is a combination of crippling economic sanctions, but the most important thing, is a credible military threat," he added.
Netanyahu told Tapper that Israel has been "taking action against certain weapons development" in Iran. However, he refused to confirm or deny whether Israel was behind drone attacks at a military plant in Isfahan over the weekend.
"I never talk about specific operations… and every time some explosion takes place in the Middle East, Israel is blamed or given responsibility – sometimes we are sometimes we're not," he said.
On the Ukraine war, Netanyahu indicated he would be willing to consider serving as a mediator between Russia and Ukraine if asked by both countries and the United States.
"If asked by all relevant parties, I'll certainly consider it, but I'm not pushing myself in," Netanyahu said, adding that it would have to be the "right time and the right circumstances."
Netanyahu also revealed that he was asked to be a mediator in the conflict shortly after Russia's invasion of Ukraine in February of last year, but he declined because he was Israel's opposition leader at the time, not the Prime Minister.
"I have a rule: one prime minister at a time," said Netanyahu, who would not specify who asked him to serve in the role, only saying that the request was "unofficial."
The Prime Minister also addressed the issue of the peace negotiations between Israel and the Palestinian Authority, saying people can get "hung up" on peace negotiations but he has opted for a different approach.
"There's a formula for peace, but my view is, because of the persistent Palestinian refusal, which goes back a century, to recognize a nation state for the Jewish people…if we wait for them, we're not going to have peace. I think realistically it's the other way around: If we make peace with Saudi Arabia, it depends on the Saudi leadership, and bring effectively the Arab-Israeli conflict to an end, I think we'll circle back to the Palestinians and get a workable peace with the Palestinians," he said.
Asked by Tapper about the Biden administration's concerns that Jewish communities in Judea and Samaria could exacerbate tensions, Netanyahu pointed to the success of the Abraham Accords, brokered by the Trump administration, which normalized relations between Israel and several Arab countries.
"I went around [the Palestinian Arabs], I went directly to the Arab states and forged a new concept of peace… I forged four historic peace agreements, the Abraham Accords, which is twice the number of peace agreements that all my predecessors in 70 years got combined," he stated.
Asked what concession Israel would grant the PA as part of a peace agreement, Netanyahu responded, "Well, I'm certainly willing to have them have all the powers that they need to govern themselves. But none of the powers that could threaten (us) and this means that Israel should have the overriding security responsibility."
"The fact is that Jews live here, and will continue to live here, and Palestinians are going to continue to live here, and we're going to have to live together. We're not going to ethnically cleanse the heartland of the Jewish people and we're not going to ethnically cleanse Israel. 20% of Israel's population is Arabs. We're not going to say that we're not going to have peace until we kick out the Arabs from Israel and we're not going to have peace until we kick out Jews from these areas which are disputed. They're not illegal, they're disputed areas, and the only way to resolve that dispute is to have peace negotiations, which the Palestinians consistently refuse to answer," the Prime Minister said.
Netanyahu rejected criticism that his coalition partners, namely Ministers Itamar Ben Gvir and Bezalel Smotrich are extremists, saying there's "tremendous hypocrisy."
He told Tapper the previous government "hinged on one coalition partner, a party that was beholden to the Muslim Brotherhood, who are anti-gay, anti-liberal, anti-West, anti-American, anti-democracy", a reference to Ra'am, led by MK Mansour Abbas.
The Prime Minister also commented on the government's proposed judicial reform that has sparked protests in Israel.
"An independent judiciary doesn't mean an unbridled judiciary," he said, but also indicated he is "willing to hear" counter offers to the proposed plan.
Netanyahu rejected claims that he is pushing for the judicial reform because of his own trial.
"That's false. None of the reforms that we're talking about — these democratic reforms — have anything to do with my trial," he stressed, adding that concerns about Israel's democracy are driven by "lack of understanding, lack of information, sloganeering" as well as "by political opponents who lost the election."