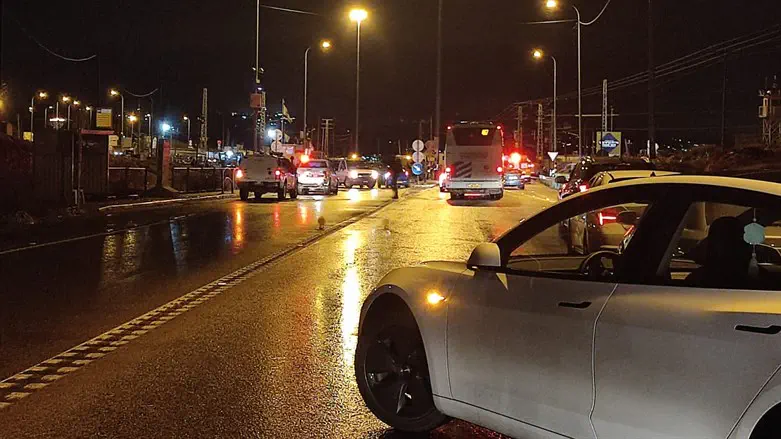 Scene of the attack
Eitan Schweber/TPS
A Palestinian Arab vehicle on Tuesday evening ran over two IDF soldiers who were standing at a hitchhiking point at the Tapuah Junction in Samaria, and then fled the scene.
One victim was moderately injured while the other was lightly injured. Magen David Adom and Rescuers Without Borders personnel provided them with medical treatment at the scene and evacuated them to Beilinson Hospital in Petah Tikva.
The driver, a 21-year-old resident of Shechem (Nablus), turned himself in to security forces about an hour after the incident. He claimed the incident was an accident caused by the fog and that he fled the scene due to a fear that the soldiers would think it was a terror attack and shoot him. He was transferred for questioning.
The IDF confirmed that the suspect accelerated toward two soldiers and struck them. After a pursuit by security forces, the suspect was caught and taken into custody.
זירת אירוע הדריסה בצומת תפוח
הצלה ללא גבולות
Samaria Regional Council chairman Yossi Dagan called on the government to act with all its might against terrorists. "Abu Mazen (PA chairman Mahmoud Abbas) is trying to ignite a wave of terrorism throughout the country and the right-wing government should treat him the way they treat any terrorist. Abu Mazen and his fellow terrorists are trying the new government again and again. If the government wants to prevent a wave of terrorism throughout the country, it must order the IDF to launch a determined military operation tonight against the terrorist infrastructure of the Palestinian Authority."
"The day Abu Mazen fears a knock on the door, the area will stop burning. The right-wing government must change the failed security paradigm of the outgoing government. We, the settlers of Samaria, together with the entire people of Israel, are strong and have faith and we will overcome this terrorism. The ball is in the hands of the government and we trust it to fight back and set a precedent for a defensive attack against the terrorist Palestinian Authority."
According to official data, at least 30 terrorist attacks have been committed in the month of January, resulting in seven Israelis murdered, all of whom were killed in a shooting at a synagogue in the Neve Yaakov neighborhood of Jerusalem last Friday night.