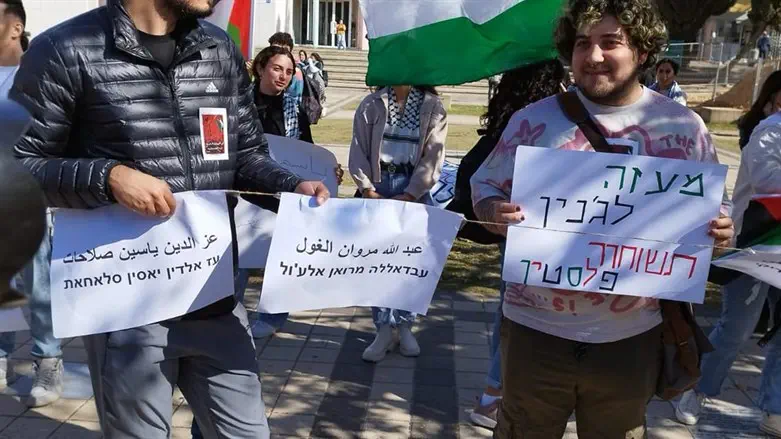 Pro-terror protesters at Tel Aviv University
Im Tirtzu
Dozens of Arab students demonstrated Monday at the entrance to Tel Aviv University and expressed support for the terrorists that were neutralized by the IDF in Jenin last week.
The students waved Palestinian flags, and called for violence with their chants. The students chanted: "In the name of a forceful national unity, we will not stop even if there are a thousand funerals every day, from Jaffa the declaration of intifada and victory came out."
"O shahid lie down lie down we will continue the fight, Temple Mount's gate is made of steel and we will not open it. O settler you coward, it is Jenin that cannot be defeated, from the river to the sea Palestine will be free."
"Listen, Zionists, listen, Palestine will not surrender, to the streets, you revolutionaries, set the streets on fire!"
"With spirit and blood we will redeem Palestine!"
In front of them stood several dozen students from the "Im Tirtzu Movement" waving Israeli flags. Shai Rosengarten, Im Tirtzu's National Campus Coordinator said that he and his colleagues: "Demand that the supporters of terrorists be banned immediately. Students who demonstrate in favor of terrorists should be immediately removed from the public; this is a life-threatening situation for students."
Knesset Member Almog Cohen was in attendance, and had a confrontation with a protestor and tried to grab a PLO flag. Yoseph Hadad was also in attendance and protested alongside students of Im Tirtzu.
Orit Eliyahu, the Branch Coordinator of "Im Tirtzu" at Tel Aviv University turned to the president of the university before the protest and asked to prevent the protest from taking place - even though it took place outside the university's gate, and therefore the university has no authority over it.
The university has called out to the student body to not hold protests that call for violence.