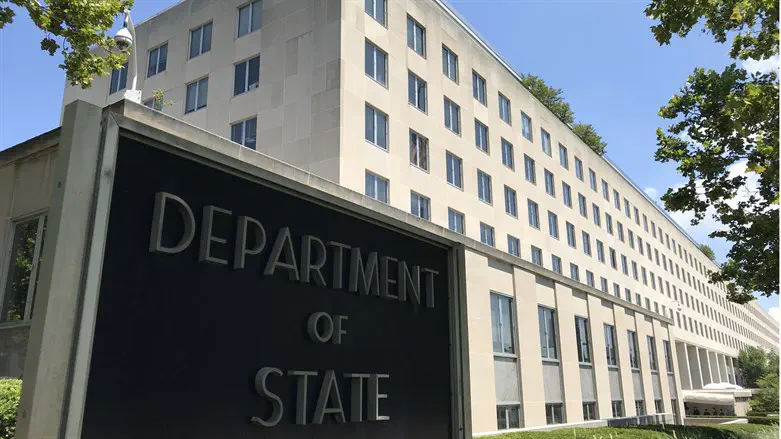 US State Department
iStock
The US State Department on Monday praised the "strong and historic ties" between the United States and Israel.
"The United States was the first country to recognize Israeli statehood when Israel declared independence in 1948," a State Department spokesperson said. "The 75-year partnership has been built on mutual interests and shared democratic values from its inception, with Israelis and Americans united by their commitment to democracy, economic prosperity, and regional security."
The State Department noted the history of security assistance and cooperation between the two countries.
"The abiding US commitment to Israel's security is buttressed by robust security assistance to Israel – including the 10-year, $38 billion MOU that was concluded in 2016."
The State Department highlighted that "consistent with the MOU, the United States provides $3.3 billion annually in Foreign Military Financing and an additional $500 million in missile defense funding. Missile defense funding supports several cooperative missile defense programs, including David's Sling and Iron Dome, as well as Arrow, Arrow II, and Arrow III, whose life-saving capabilities have proved vital to Israel's security."
"In 2022, the United States provided $1 billion in supplemental funding to replenish Israel's stock of missile interceptors for the Iron Dome," they added.
The United States and Israel also participate in a variety of security-related exchanges, including joint military exercises, research, and weapons development.
"Through the annual Joint Counterterrorism Group and other regular strategic dialogues, the United States and Israel are able to collaborate closely to address a range of regional threats," the spokesperson said.
In the area of regional peace and cooperation, United States is "committed to promoting a more integrated, prosperous, and secure Middle East that benefits all its people."
"We are dedicated to deepening and expanding normalization and integration between Israel and Arab and Muslim-majority states – as exemplified by the Abraham Accords, other normalization agreements, and the Negev Forum. Established in March 2022, the Negev Forum – consisting at present of Bahrain, Egypt, Israel, Morocco, the UAE, and the United States – advances regional integration, cooperation, and development to augment peace, security, and economic prosperity for the wider region, including initiatives that could strengthen the Palestinian economy and improve Palestinians' quality of life," they said.
The spokesperson stressed that the US "remains committed to advancing a comprehensive, negotiated two-state solution to the Israeli-Palestinian conflict."
Noting that in July 2022, the United States, Israel, India, and the UAE participated in the inaugural I2U2 summit, they pointed out that "this unique grouping of countries aims to harness a collective, shared entrepreneurial spirit to tackle common challenges, with a particular focus on joint investments and initiatives in water, energy, transportation, space, health, and food security. This forum is helping to further advance Israel's regional and global integration."
They further noted that "in November 2022, Israel, Jordan, and the UAE signed a memorandum of understanding (MOU) for Project Prosperity, a two-part project to supply Israel with clean energy (Prosperity Green) and Jordan with desalinated water (Prosperity Blue). The agreement, brokered by Special Presidential Envoy for Climate John Kerry, will enhance regional integration and resilience in the face of climate change."
"As part of our efforts to promote a two-state solution and regional peace, the United States is programming the first two years of a five-year funding plan (a $100 million tranche) directed under the Nita M. Lowey Middle East Partnership for Peace Act (MEPPA) to strengthen people-to-people engagement between Israelis and Palestinians," the spokesperson said. " MEPPA's first awards, announced in March 2022, support the Israeli and Palestinian private sectors to forge partnerships, promote economic growth, and lay the foundation for peace through people-to-people connections."
The State Department also highlighted the economic, educational and cultural ties between the US and Israel.
"The US-Israel economic and commercial relationship is strong, anchored by an annual bilateral trade of nearly $50 billion in goods and services. Several treaties and agreements, including the 1985 US-Israel Free Trade Agreement (FTA), solidify bilateral economic relations," the spokesperson said. "Since the FTA's signing in 1985, the United States has become Israel's largest trading partner."
To facilitate economic cooperation, the State Department holds an annual Joint Economic Development Group (JEDG) to "discuss the economic partnership and areas for potential growth."
The spokesperson noted that "the United States and Israel also coordinate scientific and cultural exchanges through the Binational Science Foundation, the Binational Agricultural Research and Development Foundation, Binational Industrial Research and Development Foundation, and the U.S.-Israeli Education Foundation. In July 2022, the United States and Israel held a Strategic High-Level Dialogue on Technology to partner on critical and emerging technologies to address global challenges."
The State Department also praised the educational exchanges between the United States and Israel that "include a rich variety of cultural, educational, and professional programs."
Approximately 17,000 Israelis are alumni of programs such as the Fulbright Program, the International Visitor Leadership Program (IVLP), UGRAD and Education USA, English Access, American Space (Jerusalem), and arts programs, including an environmental arts virtual residency and an exchange among Arab and Israeli youth.