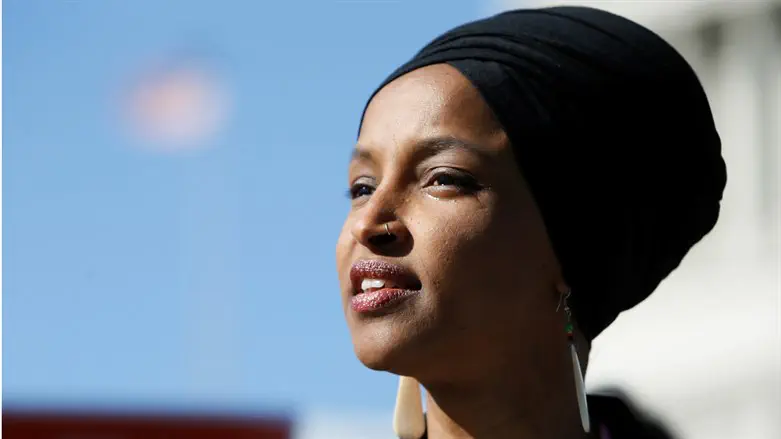 Ilhan Omar
Reuters
Rep. Ilhan Omar (D-MN) was asked in an interview with CNN on Sunday about her past antisemitic statements.
The Muslim congresswoman said in response that she didn't understand at the time that her comments could be perceived as antisemitic.
"I might have used words at the time that I didn't understand were trafficking in antisemitism. When that was brought to my attention, I apologized, I owned up to it. That's the kind of person that I am," Omar told interviewer Dana Bash.
Omar came under fire in 2019 after she suggested on Twitter that Republicans were attacking her at the behest of the pro-Israel lobby AIPAC.
She subsequently issued a half-hearted apology before ultimately deleting the controversial tweets.
In 2012, Omar claimed "Israel has hypnotized the world" and added, "may Allah awaken the people and help them see the evil doings of Israel."
In Sunday's CNN interview, she claimed, "I certainly did not or was not aware that the word 'hypnotized' was a trope. I wasn't aware of the fact that there are tropes about Jews and money. That has been very enlightening part of this journey. To insinuate that I knowingly said these things when people have read into my comments to make it sound as if I have something against the Jewish community is so wrong."
"If you remember when I first got elected to Congress, it was when the FBI report came out, the rise of antisemitism, as the rep elected the first op-ed I wrote was on that report. Which I talked about how it was important for us as a community to coalesce around the Jewish community and fight against antisemitism," she continued.
The interview with Omar came amid attempts by House Speaker Kevin McCarthy (R-CA)'s efforts to block her from sitting on the House Foreign Affairs Committee, which have hit an early snag, as he may not have the votes to do it.
Omar accused Republicans of Islamophobia during her appearance on CNN.
"It is politically motivated, and in some cases motivated by the fact that many of these members don't believe a Muslim refugee, an African, should even be in Congress, let alone have the opportunity to serve on the Foreign Affairs Committee," she claimed.