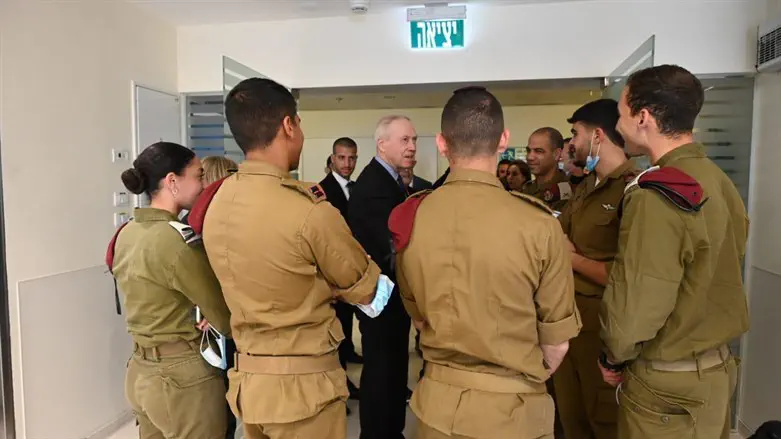 Minister Gallant visiting the injured officer in the hospital
Ariel Hermoni, Ministry of Defense
Defense Minister Yoav Gallant toured the IDF's Judea and Samaria Division in the wake of the murderous terror attacks and the IDF's heightened preparedness in the area.
After holding an assessment with the senior military officials, Gallant stated: "We will bring every terrorist to a court or a cemetery. We will hit anyone who aids terrorists. If there's a need, we will destroy their homes, we will deny their rights, and deport them.
We want to calm down the area; anyone who behaves accordingly can work and support themselves," the minister added.
Earlier, Gallant visited Captian N., the IDF officer who was injured on Saturday in a terror attack in the City of Davin in Jerusalem, and managed to neutralize the terrorist after being shot and seriously injured.
Gallant spoke with the troops from the 202 paratrooper battalion next to Captain N.'s bed and gave them support for their work in the field. "Thanks to soldiers like Captain N., the state of Israel manages to protect its citizens' lives. N. pushed for contact bravely and determinedly and prevented many civilians from being harmed," said the Defense Minister.