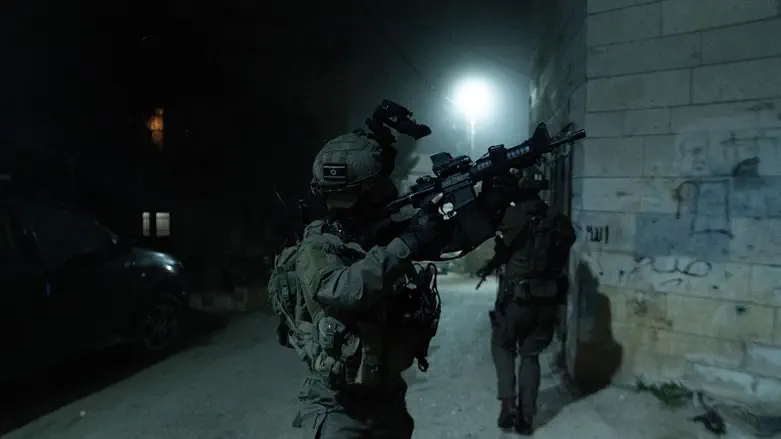 counter-terror activity
IDF Spokesperson
Defense Minister Yoav Gallant and Police Commissioner Kobi Shabtai have agreed on increasing the assistance of IDF forces to the police in several areas following the massacre at a Jerusalem synagogue on Friday night.
"I have instructed the security establishment to increase defense efforts with an emphasis on the area around Jerusalem and to increase deterrence and preventative actions against anyone who is involved in or plans to harm civilians," Gallant said.
He added that he issued orders "to examine a series of options for imposing sanctions against the terrorists and their families. We will not allow a situation in which a person who receives rights from the State of Israel kills Israeli citizens and remains a resident of the state."
Kan News reported that the main concern in the security establishment is over the possibility of copycat attacks inspired by Friday night's deadly attack in which seven people were murdered. The big challenge right now is preventing a security escalation, calming tensions and not allowing the situation to deteriorate to a third intifada. The security system will attempt to accomplish this an increased presence of forces in the field in case an immediate response is needed, creating deterrence, preventing friction and placing additional forces in the seam line area to prevent the entry of snipers and hazards.
Bereaved Israeli Families Need our Help!
Last night the cabinet announced the increase in the level of alertness all over the country following the attacks on Shabbat. In addition, it was decided to deny social security rights to the families of terrorists who support terrorism, to expand the granting of gun licenses to citizens, and to strengthen the police and military forces.
In Israel, it is estimated that Hamas is not interested in a security escalation now, but it continues to incite terror in Judea and Samaria and to try to set the area on fire.
A security official said: "In a sensitive and explosive period. You need to act calmly and in a balanced way, calm the area with your mind and prepare correctly and intelligently."