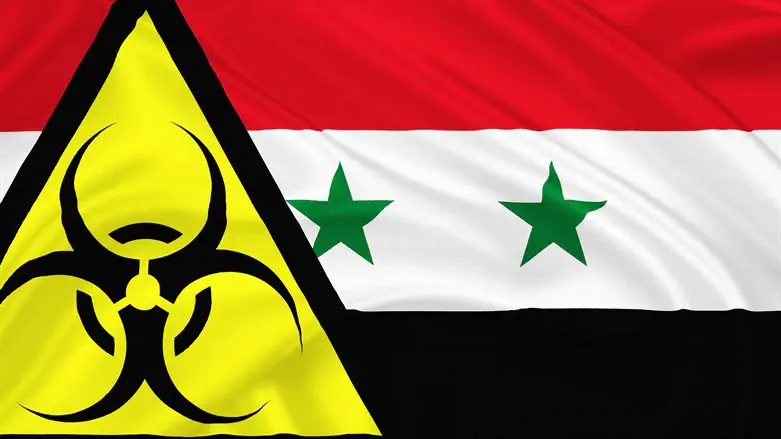 Chemical warfare in Syria
iStock
Syria's foreign ministry said on Saturday that a report by the Organization for the Prohibition of Chemical Weapons (OPCW) that found the Syrian government was responsible for a chemical weapon attack on the rebel-held Syrian city of Douma in 2018 lacked any evidence, and denied the allegations, Reuters reported.
On Friday, the OPCW published a report which said it established there are "reasonable grounds to believe" Syria's air force dropped two cylinders containing chlorine gas in the April 2018 attack, in which 43 people were killed.
"The use of chemical weapons in Douma – and anywhere – is unacceptable and a breach of international law," OPCW Director-General Fernando Arias said, as quoted by The Associated Press.
The organization said that "reasonable grounds to believe" is the standard of proof consistently adopted by international fact-finding bodies and commissions of inquiry.
"The world now knows the facts – it is up to the international community to take action, at the OPCW and beyond," Arias, a veteran Spanish diplomat, said.
The report said there are "reasonable grounds to believe" that during a government military offensive to recapture Douma, at least one Syrian air force Mi8/17 helicopter dropped two yellow cylinders on the city.
One of the cylinders hit the roof of a three-story residential building and ruptured, "rapidly released toxic gas, chlorine, in very high concentrations, which rapidly dispersed within the building killing 43 named individuals and affecting dozens more," according to the report.
A second cylinder burst through the roof of another building into an apartment below and only partially ruptured, "mildly affecting those who first arrived at the scene," the report added.
Syria regularly denies having any connection to chemical weapons attacks in Syria and has rejected past OPCW investigations into its chemical attacks as "fabricated".
The OPCW has several times released reports finding that chemical weapons were used on civilians in Syria. However, it did not explicitly say those attacks were carried out by the Assad regime until a report released in April of 2020.
In March of 2019, a report issued by a fact-finding mission from the watchdog that found "reasonable grounds" that chlorine was used in a deadly attack on the eastern Damascus suburb of Douma in 2017.
In April of 2021, the global chemical weapons watchdog stripped Syria of its voting rights as punishment for the poison gas attacks.