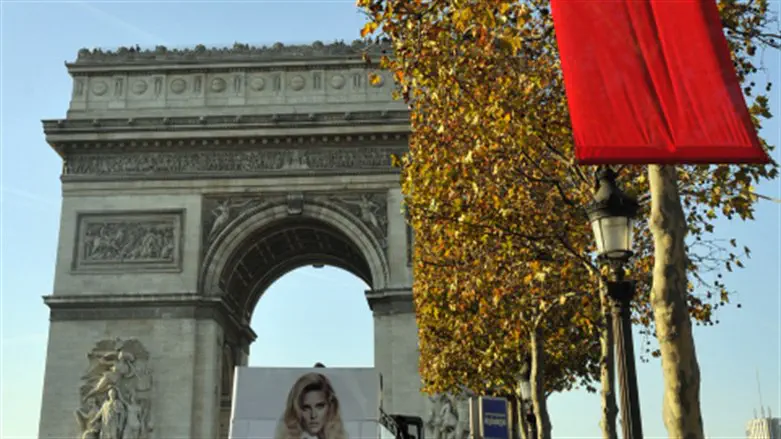 Paris
Flash 90
Disturbing antisemitic graffiti was discovered on storefronts across a main Jewish neighborhood in Paris, France on Monday.
The vandals targeted multiple businesses in the 9th arrondissement, including spray painting Stars of David on shop doors.
"We denounce the many antisemitic tags found this morning on the facades of stores in the 9th arrondissement of Paris," the Union of Jewish Students of France (UEJF) said on Twitter. "The whole neighborhood is covered with Stars of David, the word 'Jude' or even the expression 'I am a racist' tagged in large white letters."
The UEJF noted that photos taken of the vandalism were "not archival photos of Kristallnacht but the streets of Paris on Monday."
"Some want to transform the week of commemoration of the liberation of the death camps, which opens today, into a week of apology for Nazi antisemitic policies," the UEJF said.
They called the vandalism a serious threat to the local Jewish community.
"The historical Jewish presence in the neighborhood as well as the proximity of many synagogues and Jewish institutions make these tags a real security issue," the organization said. "We are thus providing all our support to the merchants and local residents concerned."
UEJF filed a report with the police, demanding that those responsible face charges. "We ask that the safety of local residents be ensured and that the perpetrators be found and sentenced. It would be unacceptable for such antisemitism to be displayed freely and with impunity in the public space."
The vandalism was also condemned by the European Jewish Congress (EJC).
"These photos are not from Nazi Germany in 1938, but from Paris yesterday," EJC said. "This is a striking reminder that antisemitism is not a thing of the past – it is still alive, and it is on the rise."
Clement Beaune, the deputy of Paris's 7th arrondissement, described the antisemitic graffiti as "inconceivable in the heart of Paris" and called for the incident be condemned and those responsible punished.