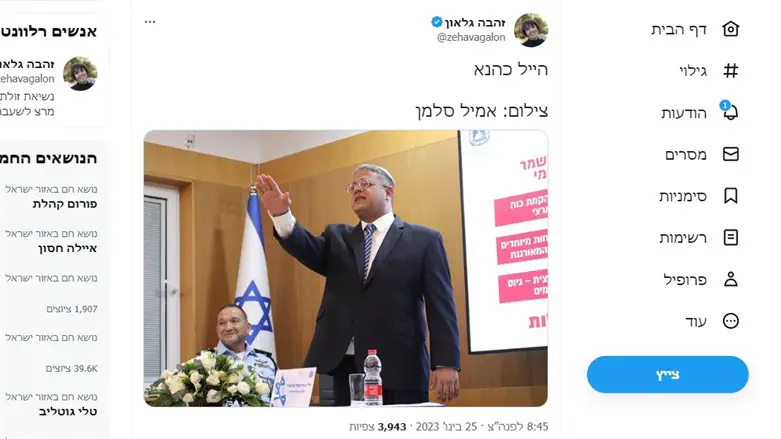 Galon's tweet
Twitter
The former chairwoman of the far-left Meretz party came under fire Wednesday, after she posted a photograph of Israel's National Security Minister raising up his arm, comparing him to Nazis giving the "Heil Hitler" salute.
Former MK Zehava Galon, who returned as leader of Meretz ahead of last November's Knesset election, tweeted Wednesday morning a photograph of Minister Itamar Ben-Gvir (Otzma Yehudit) taken at a press conference Tuesday night.
The photograph shows Ben-Gvir raising up his arm in the midst of a conversation with a journalist.
Galon, however, conflated Ben-Gvir lifting his arm to the Nazi salute, writing in the tweet "Heil Kahane" – a reference to the late right-wing activist and Kach party founder Rabbi Meir Kahane, and the book Heil Kahane written by journalist and Kahane critic Yair Kotler.
Shortly after the tweet was posted, Galon came under fire for the Nazi comparison, with even some on the Left castigating the Meretz chief's comment.
Later Wednesday morning, Galon deleted the tweet.
"I deleted the tweet," Galon wrote in a follow up post. "I am still waiting for racism to be erased from the Knesset."
Ben-Gvir excoriated Galon, tweeting in response: "The daughter of Holocaust survivors is cheapening and ripping up the [memory] of the holy Six Million. Zehava, what would your mother and father say about this?"
Culture and Sport Minister Miki Zohar (Likud) also condemned the tweet, writing: "This is nothing short of blatant incitement and pure racism. Zehava, do everyone a favor and erase this embarrassment."
Former Blue and White MK Michal Cotler-Wunsh also spoke out against Galon's tweet.
"During the week in which we mark International Holocaust Remembrance Day, and when antisemitism is raging around the world…this basically shows [your] disconnect and that you've lost your way."