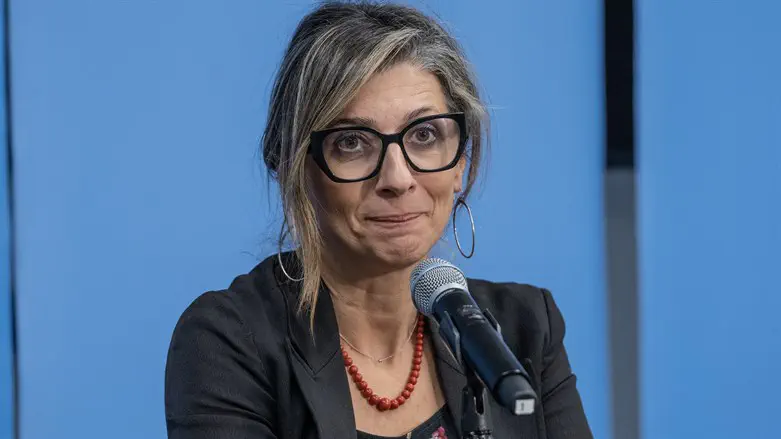 Francesca Albanese
Reuters/Lev Radin/Sipa USA
A group of US lawmakers, led by Congressman Brad Sherman (D-CA), on Tuesday sent a letter to UN Secretary General, Antonio Guterres, and the UN High Commissioner for Human Rights, Volker Turk, urging them to dismiss a UN official who made antisemitic comments.
Francesca Albanese, the UN Special Rapporteur on the situation of human rights in Palestinian Authority-assigned territories, came under fire in December after the Times of Israel news website exposed her past antisemitic social media post.
The site revealed that, in an open letter posted to her Facebook page in 2014, Albanese castigated the US and Europe for their conduct during Operation Protective Edge and wrote, "America and Europe, one of them subjugated by the Jewish lobby, and the other by the sense of guilt about the Holocaust, remain on the sidelines and continue to condemn the oppressed — the Palestinians — who defend themselves with the only means they have (deranged missiles), instead of making Israel face its international law responsibilities."
In another post from that year, which has since been hidden, Albanese referred to the Israel lobby and Israel's greed in comments directed at the BBC over its coverage of the conflict.
Wednesday's letter by the US lawmakers expresses opposition to the comments by Albanese.
"At the time of Ms. Albanese's comments, she had previously been an employee for various UN agencies for 10 years, including for UNRWA. It's clear from Ms. Albanese's statements that these comments were not simply a mistake, but rather a fundamental part of her worldview. Ms. Albanese made similar comments earlier this year that condemned the BBC being on the side of a purported 'Israel lobby,' and addressed a Hamas conference in Gaza where she told the terrorist audience that 'You have a right to resist this occupation.' She has also trivialized the memory of the Holocaust on numerous occasions by attempting to falsely equate it to the current Israeli-Palestinian conflict," the lawmakers wrote.
The letter noted that Albanese rejected that her comments were antisemitic, having written in a Twitter post that her post was "wrongly mischaracterized as antisemitic".
"Instead of taking responsibility for repeating age-old antisemitic tropes and her incitement to violence, Ms. Albanese attacks those who notice her public comments, falsely claiming that her comments were 'wrongly mischaracterized as antisemitic.' However, these comments clearly do meet the definition of antisemitism as outlined by the International Holocaust Remembrance Alliance and adopted by 38 countries, including the United States," the lawmakers noted in their letter.
"Enough is enough. Ms. Albanese's comments are only the latest in a pattern of antisemitic behavior and rhetoric at the UN, which is obsessively focused on the world's only Jewish State. The UN General Assembly even went so far as to pass more resolutions criticizing Israel than all other nations combined in 2022. Additionally, Israel is the only country subjected to two open-ended UN investigations. These investigations are led by UN officials who have demonstrated a hostile bias towards Israel and are on the record making antisemitic comments. This includes UNHRC Commission of Inquiry commissioner Miloon Kothari, who questioned 'why [Israel is] even a member of the United Nations' and repeated the antisemitic canard that 'social media is controlled largely by... the Jewish lobby.' This also includes recent comments by UNRWA employees that led to them being placed on leave. This pattern seriously undermines not only the UN's credibility on issues in Israel and the Palestinian territories, but also the UN's commitments to its own chartered principles of tolerance, equal treatment, and impartiality," they added.
The letter concludes by urging Guterres and Turk to dismiss Albanese from her post.
"You have stated that 'there is no room for antisemitism in the UN,' but it seems you do have room for Special Rapporteur Albanese and others who have repeatedly made statements that are antisemitic. Failure to take meaningful action on repeated instances of antisemitism by UN officials undermines the UN's credibility. We urge you to demonstrate that the UN is capable of genuinely addressing antisemitism by removing Ms. Albanese from her post."
In addition to Sherman, the letter is signed by Rep. Dina Titus (D-NV), Rep. Josh Gottheimer (D-NJ), Rep. Scott Peters (D-CA), Jared Golden (D-ME), Donald Norcross (D-NJ), Maria Elvira Salazar (R-FL), Brian Fitzpatrick (R-PA), Ritchie Torres (D-NY), Brian Mast (R-FL), and Jim Costa (D-CA).